One Step Ahead
Since the cancellation of spring events, students prepare even more during summer for coming competitions
There's no question that since March events had been canceled, it has indefinitely left many unanswered questions about coming competitions and events this fall and coming spring. On the flip side of things, some students held practices or worked on their own projects over the summer with the extra time they had on their hands to get ready for the school year.
"At this point, competitions are still on the schedule," senior Samantha Gaus-Schmidt, Criminal Justice Club President, said. "I'm anxious to start preparing for the nearing competition season."
Gaus-Schmidt was invited to volunteer at the Criminal Justice State competition at Moody Gardens in Galveston last March but it was canceled the same day. Nevertheless, as a team leader and president of the club, she planned and worked this summer to get a head start on the year.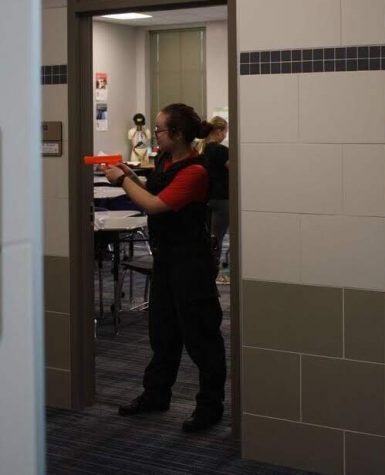 "I held a few Zoom meetings with others who are interested in being on this year's team, practiced some basics at home, planned a lot for both SWAT and criminal justice club, and started recruiting work for new club members and for the SWAT team," Gaus-Schmidt said.
Another student, senior Anisah Khan, faced a similar situation in the spring when the orchestra spring trip and the Scholastics Art and Writing award ceremony were canceled.
"I already had a packing list created months ago and was excited to room with my friends and go to San Antonio because the last time I went was when I was nine," Khan said. "Knowing that the orchestra trip was canceled, I had a huge hunch that the scholastic ceremony was going to be canceled. I wasn't as upset as the orchestra trip but I was excited to receive my certificate, pin, and be recognized on stage for my hard work."
During the summer returning students kept their laptops and for Khan, this helped her greatly to start writing. She has received two Silver Key awards since freshman year and currently is in the process of putting together two portfolios for her entry in the 2021 Scholastic awards, of which submissions opened Sept. 1.
"Quarantine also benefited me during my writing process because I experienced many moments I would not think I would experience, which I'm able to incorporate to my portfolios to make it truly special and unique to me," Khan said. "This school year, I will definitely be prepared for the scholastic writing completion now that I have a head start."