Lunch Crunch
New partitions keep mealtime safe in the commons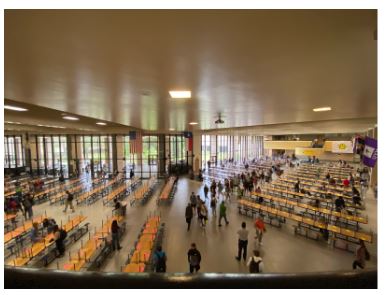 Covid-19 introduces new challenges along with the reopening of school, especially for lunches. Plastic dividers are currently nailed to the table and empty seats between students were put into place to provide safety while sitting with friends in the cafeteria.
"Honestly, I was a little mad about it, but I understand that the school has to take safety precautions in order to keep us socially distanced and contain the virus as much as possible," sophomore Evan Brown said.
During lunches, large friend groups are required to be split apart throughout the whole table, creating less of an effect for smaller friend groups. Students have the option to eat outside too, although they have to distance as well.
"We have been separated and it has been a quieter lunch with a lot less time to socialize," freshman Johnathan Hernandez said.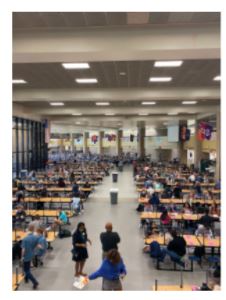 The idea for dividers first became an option over the summer as part of planning from the district. Construction of these dividers began in late June and ended in mid-August since the entire district had to be done. In mid-September, three more tables were constructed to supply more spacing.
The effectiveness of dividers is uncertain in the setting of a high school. Some are questioning why it is mandatory to socially distance and keep dividers up due to dividers only being effective to a certain degree. Others say they simply lean across the divider and are right next to their peers. But, despite the challenges of kids being kids, faculty on lunch duty try to remind students when they are not following safety guidelines.
"I think it's a good way to socially distance; it provides that barrier while students are eating with their mask off to prevent the spread. It's one of the things we have implemented with your masks off," Associate Principal Jason Anderson said.