Watt Ties the Knot
Houston's favorite bachelor goes off market
Sorry ladies but his heartthrob is off the market. JJ Watt, Houston Texans defensive end, married soccer star Kealia Ohai on Feb. 15. This gorgeous couple started dating in October 2016 but Watt finally got down on one knee and pulled out that diamond ring in May 2019.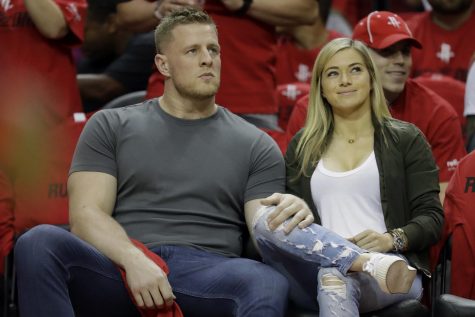 "We couldn't be happier and are truly grateful to have such incredible family, friends & fans to share our lives with," Watt captioned on his Instagram post.
According to all in attendance, they had a beautiful wedding at the Ocean Club which is a Four Seasons resort in the Bahamas. The wedding started off very traditional with Ohai wearing a stunning white beaded dress and Watt wearing a white suit with "Mr. Kealia Watt" embroidered on the back of the collar, but once they hit the dance floor they had changed into white sweats and sneakers.
"I think they are a perfect couple and their wedding was so cute," freshman Natalia Vasquez said.
Guests said one of the most memorable moments of their wedding night was at the reception when JJ got down on the dance floor with his grandmother to the song Blurred Lines by Robin Thicke. 
Fans wish this newlywed couple a great future and maybe a little football star down the line!