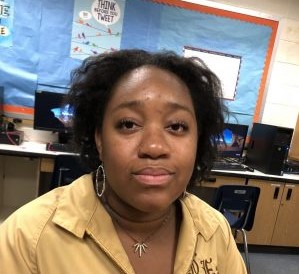 1. What do you enjoy most about the opportunity to be a reporter for the Panther Press?
It helps me towards my way to becoming a Journalist in the real world with interviewing, reporting, and writing stories.
2.  What is your favorite quote, life motto, or the words you live by?
"What glitters isn't gold."
3. What is the one food item that you couldn't live without?
Tortilla soup
4. Three words that describe you:
creative, precise, open-minded.
5. Your three favorite news sources (any form of media)
Buzzfeed, Nicki Swift, Smithsonian.
6. If you could have dinner with any three other people (dead or alive), who would they be?
Michael B. Jordan, Olympic Gold Medalist Simone Biles, and Actor Johnny Depp.
7. Favorite hobby:
Writing, specifically novels and short stories.
8. Favorite holiday:
Christmas
9. Favorite class at Klein Oak (besides Journalism):
Money Matters
10. Your Twitter handle:
I don't have a Twitter yet, but I'm starting one soon.
Adria Pugh, Reporter
Feb 11, 2019
Nov 13, 2018
Oct 16, 2018

Healthy Food Choices Change Lives

(Story)

Sep 21, 2018

New Wrestling Coach Joins the Team

(Story)