Too Old to Trick or Treat?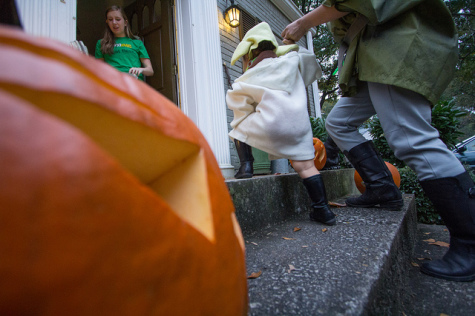 Dave Malkoff
Halloween is a perfect opportunity for kids to enjoy cool temperatures, lots of candy and great costumes, but if spending the night trick-or-treating sounds like a great idea at this point in your life, it might be time to rethink. It was cute when kids would dress up as their favorite superhero or Disney princess to ask for candy from the neighbors, that's a bit odd and downright creepy. High school students are too old to indulge in Trick-Or-Treating.
Halloween has been a favorite for many, who doesn't love getting to dress up and get free candy for saying a simple phrase? Yet there is an age for everyone as to when kids should stop trick-or-treating. Rowdy teenagers trick-or-treating can easily scare the younger ones and ruin a fun experience.
Not only do teenagers running around in the streets like maniacs look quite frightening to the little ones, it causes a higher alert in the neighborhood. Some kids take things too far and start committing petty crimes such as vandalism, stealing, and trespassing causing the police to be called which leads to an unnecessary disruption.
However, there is the argument that kids are still kids, that there is no harm in teenagers to run around late at night, but this doesn't mean that there shouldn't be a cut off to the fun.
If a teen must have the thrill of running around and scaring people, applying at a haunted house during the Halloween season would be an appropriate step to take. Enjoy Halloween night around a campfire enjoying scary stories being told by friends, go to the drive in and lay out to watch a classic scary movie, or even stay at home and hand out candy to kids and reminisce on the fun times you had trick or treating as that Cinderella or Superman.
Having teens out the night on Halloween takes away the fun for younger trick or treaters and should be stopped. There are many other ways to have a good time this Halloween, but Trick- Or- Treating should not be one of them for young adults.