Watch the clock for Theatre's next show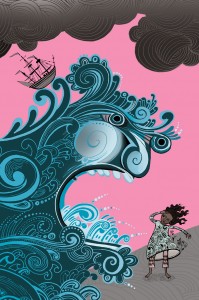 The Theatre Department will continue its season with director Mr. Christopher Pruett's own play, A Clockwork Tempest.
The show is a steampunk-styled adaptation of Shakespeare's The Tempest, which centers on Prospero, the ousted Duke of Milan who now lives on a remote island, and his daughter, Miranda. Prosepero plots to restore Miranda's rightful claim to her position by creating a storm, which will bring his throne-stealing brother Antonio and the King of Milan in hopes of securing Miranda's hand in marriage to the King's son. Starring in the show are Alec Ryan as Carlo, Carson Robinson as Miranda, Kaylee Brown as Miranda and Travis Pounds as Caliban.
Showtimes are November 7, 8 and 10 at 7 PM in the auditorium. Tickets may be purchased now for $5 through the online ticketing system, accessed through the Theatre Department website, and will also be available at the box office each night of the show.