New lunch regulations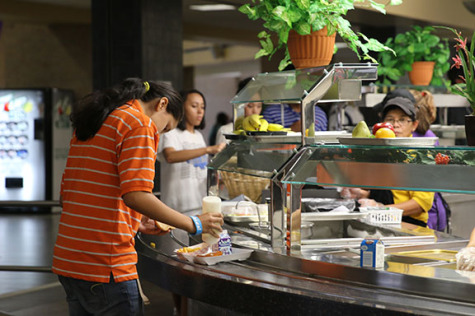 All Texas high schools taking part in the National School Lunch Program must now follow the Healthy, Hunger-Free Kids Act of 2010. This year new standards were put in place for the breakfast and lunch menus to meet in order for students to eat healthy throughout the day.
Certain items available last year have been replaced by healthier versions. The previous recipes for bread options, such as kolaches and jalapeno cheese bread, have been redeveloped to consist of 100% whole grain. Sodium levels have been lowered, offering choices such as low-sodium catsup, ranch and mashed potatoes, as well as the calorie ranges.
"Everything sold here must be a healthy snack," cafeteria staff member Angela Tibbs said. "And the food must meet the new criteria in order to be considered a healthy snack."
Restrictions on buying some foods have also been implemented. The vending machines are now set on a timer which prohibits students from purchasing beverages during the school day. Students are no longer allowed to purchase extra portions of certain items that do not meet the new Smart Snack Guidelines set by the United States Department of Agriculture. In addition, each meal must include a fruit or vegetable and one cup of fruit or juice must be offered at breakfast.
"United States Department of Agriculture feels these regulations will ensure students are only offered tasty and nutritious foods during the school day," district dietician Tiffany Mickey said. "This in turn will create an environment that reinforces the development of healthy eating habits."
These new federal standards are intended to benefit the student body and prevent obesity, a cause actively promoted by First Lady Michelle Obama throughout President Obama's time in office. Schools throughout the state and even nation are seeing the results of healthier eating in their students' academic performances.
"I'm hoping that the healthy lunches will help students to become healthier in general," Associate Principal Ms. Mandy Nesbit said. "If people are eating healthier their thought processes are going to be better. We'll have a more successful educational environment."