All That Jazz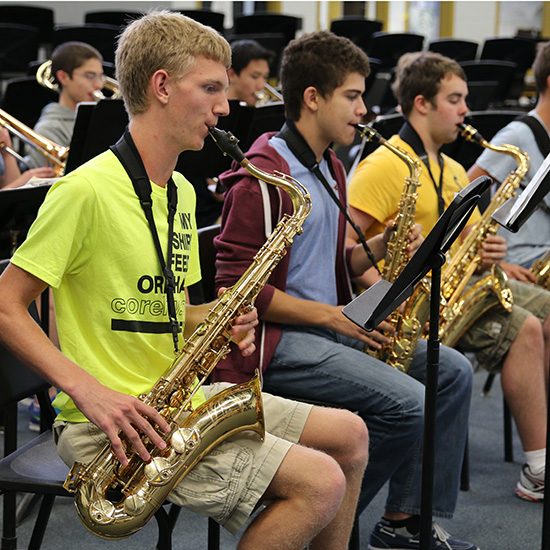 When someone hears "band," they think about the perfect formations out on the football field and the fight song booming from the stands. They may even think about the formal concerts the bands put on after the marching season, but something that is overlooked is the smooth jams and funky tunes provided by the jazz band all year long.
The jazz band is directed by Mr. Jay Hagy and is made up of several musicians involved in the band and orchestra organizations.
"It's really fun to have a group with band and orchestra members, but I wish there were more orchestra people in jazz band," senior bass player Michael Casagrande said. "Right now, it's only me and the other bassist."
The instruments that play in the jazz ensemble are trumpet, trombone, saxophone, drums, piano, guitar, and bass making it an even more exclusive group.
"Auditions for jazz band are different in that Mr. Hagy gives classes that he calls 'jazz labs' in order to prepare musicians that plan to audition to play the music they've been given," sophomore Thomas Wenglinski, keyboard and saxophone player, said.
Jazz band has auditions at the end of the school year, much like the rest of the music programs, where students who are interested in joining play predetermined music for the director. Students who are not part of any musical organization but still know how to play an instrument may audition, so students that are interested in joining jazz band should contact Mr. Hagy for more information.
"During the class, just like concert band, we rehearse rigorously," Wenglinski said. "Concert band and jazz band are similar in that lots of rehearsing and practicing has to go into the music."
The band meets everyday for a class period to work on jazz concepts and learn new music. The students learn several songs at once and could play about six songs at one concert in comparison to a concert band, which would play around three songs at one concert.
"The music we play would have been very popular in the 60's," band director Mr. Hagy said. "That's when jazz was at its peak in history."
Instead of playing traditional "band music," the jazz band plays music with a more modern feel, often from the jazz age. Music that was featured in their most recent concert featured popular jazz music artists like Dave Brubeck and Joe Raposo.
"I think more people should know about jazz band," Casagrande said. "All of our performances are worth watching, and our audiences aren't big enough."
Jazz band and concert band are entirely different entities, and while concert band is more widely known around school, jazz band is a tight knit group of students who are looking to improve their musicianship.
"Jazz band, to me, means liberation and a more lively and interactive way of playing music," Wenglinski said.