Mysterious Google Barge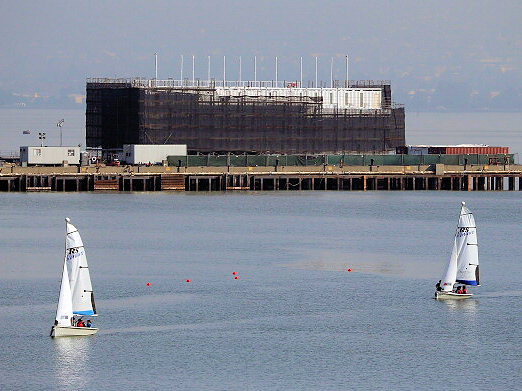 A mysterious barge appeared in San Francisco Bay on October 25. Formerly a Navy base, the barge, which is called Treasure Island, carried a four-storey structure made of shipping containers, but the builder's identity remained entirely unknown.
After several reporters were sent to the area to interview locals and even a visit from the U.S. Coast Guard, it was finally discovered that the force behind the building's sudden appearance is Google. The company tried to keep the plot under wraps, but residents of the San Francisco Bay area told reporters that restaurants nearby the structure served customers who paid with Google credit cards.
However, the exact reasons behind the building remain unclear. Google would not release a statement until November 6. The comment issued by the company states that the structure will be an "interactive space where people can learn about new technology."
Why or how these people will be learning about new technology has not been explained, but planning documents for the structure have been released under the Freedom of Information Act. The plans show that the building will be made of protective glass, but the part which stands out the most are the dozen sails resembling those of a large ship. Indeed, the building is supposed to be like a ship in that it will "sail" from one spot to another: Treasure Island will not be its permanent residence. Google intends to move it to a different spot in the San Francisco Bay each month. They plan to moor the building at such places as Fort Mason and the Rosie the Riveter/World War II Home Front National Historical Park.
Google remains silent on anything else asked about the project, but the project is expected to be unveiled within the next few months.