2013 Summer Recap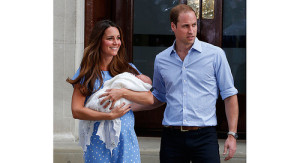 Over the course of this summer, a number of political events took place which changed the history of several countries.
Australia experienced their Prime Minister stepping down from position for only the second time in the country's history. Julia Gillard, the first female Prime Minister of Australia, resigned amidst political infighting on June 26. After being ousted in a vote as leader of the Labor Party, Gillard was replaced by Kevin Rudd, whom she had previously replaced in 2010. Gillard subsequently stepped down from her position as Prime Minister, and Tony Abbott has since taken her place.
Coincidentally, a new leader was brought into the world elsewhere in the Commonwealth of Great Britain.
Prince George Alexander Louis Windsor was born on July 22 to parents William and Catherine, the Duke and Duchess of Cambridge. Early in the morning, the Duchess was privately driven in a single car and admitted to St. Mary's Hospital, London, the same hospital in which Prince William was born, and gave birth in the afternoon. The little prince is third-in-line to replace his great-grandmother, Great Britain's reigning monarch Queen Elizabeth II.
As the British Royal Family was receiving many blessings from around the globe, the Obama administration received heavy criticism from many American citizens.
On August 22 Bradley Manning, the United States soldier who leaked over 700,000 classified government documents to WikiLeaks, was found guilty of espionage and sentenced to 35 years in prison. Manning has since sought out a presidential pardon; however, the chances of receiving a pardon are slim, not only because the President has granted fewer pardons than any of his recent predecessors, but also because the Obama administration has proven to take cases of espionage very seriously, charging seven different people with leaking classified documents. Only three others have been charged with the same crime under all previous presidents' terms combined.
While many governments experienced unexpected changes, others were busy trying to make the change.
Since the end of this summer, the bidding to host the 2020 Olympic Games has been many other countries' main concern. The final two cities in the bid were Tokyo and Istanbul, and Tokyo won 60-36 in the final round of voting. The International Olympic Game Committee decided Istanbul would not be the safest choice to host the games due to Turkey's proximity to Syria, the latter having recently been plagued by threats of civil war and political unrest. Tokyo will be the first Asian city to host the Olympic Games twice. Rio De Janeiro will be hosting the 2016 Summer Olympic Games.