#ChampionshipSZN
Panthers head into Round 2 of Playoffs after big win over Cy-Ranch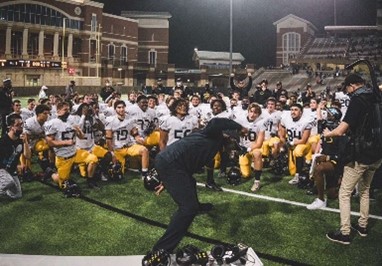 Klein Oak put on a show last weekend with an absolute route against an impressive 7-2 Cypress Ranch Mustangs football team, or more accurately 7-3 as of last Friday.
Both the offense and defense commanded the field against the Mustangs last week with the offense scoring 30 points, making that the most points a team has scored on Cypress Ranch all season. The Panthers started hot with a 52-yard run from senior Jamal Stephens and a 20-yard touchdown run from  quarterback Preston Hatter.
However, Hatter didn't stop there. The sophomore recorded another two touchdown runs as quarterback, showing off his speed and agility. And more impressively, his prowess as a young player.
"I was nervous as the time came closer to play, but I realized that I didn't work this hard just to be nervous. It felt really good when all the work paid off," Hatter said.
The Panther defense reciprocated the excellent execution of the offense by only allowing six points from Cypress Ranch, making that the least amount of points scored by the Mustangs all season. Overall, Oak made the Mustangs look more like a middle school team rather than a top tier squad.
Even when the Mustangs showed strides, the Oak defense quickly shut it down with big plays such as a fumble recovery by senior linebacker Nathan Grychka.
Oak evidently played at 110% last week firing off on all cylinders, however, they will need to keep the same energy heading into their game against the number 15 ranked team in the state of Texas and 8-0 Spring Lions. The Panthers played the Lions in week one of the season and barely lost 27-31.
The Panthers must bring their A-game tomorrow night as it looks as if the Lions have made big improvements since the early season match up by beating some high quality teams such as the Westfield Mustangs in week three and The Woodlands High School in the first round of the playoffs last week.
Klein Oak is undeniably the underdogs heading into Friday's game, so they will need to bring absolutely everything to have a shot at the third round.
"We are going to expect a lot of the same type of play from week one," senior linebacker Max Roberts said regarding the Lions. "We have found an identity as a team and that's what different now. It's not our first week. It's playoffs and as Coach Vaughn said, it's championship season. We have to come back and study from before and correct our mistakes and slip ups from the first go around."
The Panthers face off against the Lions at Klein Memorial Stadium on Friday 12/18 with a kickoff at 7 p.m.