War Against Eagles
Panthers Improve record to 6-2.
The Panthers took to the field at Klein Memorial Stadium on Oct. 20 against a struggling Oak Ridge War Eagles team.
The first score of the game came early in the 1st quarter with a pick six from Marcus Joseph of the Panthers.
"I just knew I had to step up for my team, it was my first varsity start as junior and the second play of the game. I was just thinking my teammates depended on me to make a play, and that's what I did," Joseph said.
Later in the 1st quarter, junior Montrell Bolton connected with senior Tyler Hudson on a seam route in the middle of the field to give the Panthers a 14-7 lead.
Hudson once again, lights up the War Eagles secondary with another touchdown giving the Panthers the lead in the middle of the second quarter 21-14.
Junior Tucker McEnroe gave the Panthers more breathing room ending the first half with a nice catch running into the end zone giving Oak a 28-14 lead going into the second half.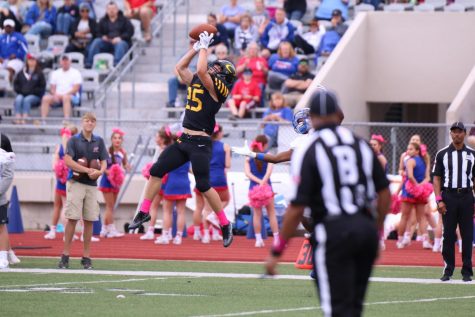 Senior AJ Roberts grabbed a pick for himself at the start of the 4th quarter setting up the Panthers offense and senior Kendal Taylor to score a lightning fast 25-yard touchdown run putting Oak up 35-20 with the final score of the game.
"It was just instincts really. It was really executing and running as fast as I could," Roberts said.
Bolton had a strong game with three touchdowns, with two of those going to Hudson.
Oak's defense showed up with three interceptions and one pick six, giving the offense all the chances they could get to extend their lead.
The Panthers won 35-20 against the War Eagles and improved to 6-2 overall and 4-2 in district play.
Oct. 26 the Panthers face 5-2 College Park at Klein Memorial Stadium.