Forging a Dynasty
Lady Panthers surpass all others to set future precedence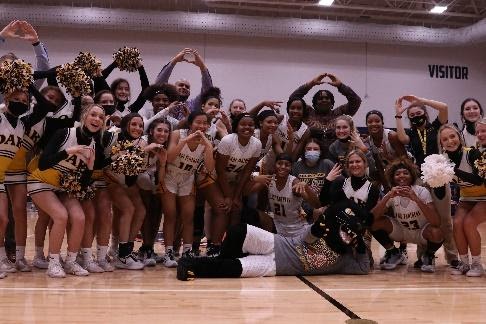 Trekking through the unknown this year, the Lady Panthers basketball team controlled all of Klein ISD with its district wins and enshrining itself as one of the best teams around, all while navigating with a new head coach.
However, the season did not start as well as it ended up being. The Lady Panthers dropped their first two games of the year against Magnolia West and Cypress Creek.
"We were disappointed with the outcome, but we knew that we played difficult opponents," senior Olivia Benson said. "Although, we were hopeful because we saw the potential that our team could have."
Despite those first losses, that potential that the team saw in themselves sparked during the next round of the season, and the Panthers began a three-game winning streak, putting Oak over 0.500 for the first time that season.
Oak continued to struggle early on in the non-district play, losing a grand total of eight games. But they turned it around and made district play a different story. When it came to bragging rights, Oak toppled any chance of their rivals getting any breathing room. Going 11-1 in the district, the Lady Panthers dominated all ends of the ball and embarrassed opponents such as Klein Cain 49-20 and Klein High 63-27.
Through this dominating performance in district play, the Lady Panthers were set bound a playoff run. The Oak girls were set to play the Bridgeland Bears, a team that had beat Oak 57-52 in early November.
"
The Cypress Springs side was dead silence; you could really see the shock in their faces."
— Nolan Steeples
"Going into the game, we were out for blood. We wanted revenge because we all knew we could've to beat them the first time," senior Ashlyn Jones said.
The defense was the story of the game; both sides played like there was no tomorrow. However, the Lady Panthers came out on top, defeating the Bears 37-34 in a nail-biter of a match.
Following, Oak was set to play another team they lost to in the regular season: The Spring Tigers, who had a 13-1 district record and an 83 percent overall win ratio. Yet, the Panthers handled Spring 43-38.
"There are four areas that we try to control each game. We know if we win three of those four areas, we will win the game," head coach Michael Prejean said. "So, at halftime, we reviewed those four areas to check our progress. From there, we made some offensive and defensive adjustments that we thought would help us."
Once again, the defense of the Panthers proved a big improvement from the last meeting between the two, allowing 28 fewer points.
Heading into round three, the excitement got intense from the Klein Oak fans, arriving at the game in colossal numbers in anticipation of a close game against an 18-5 Cypress Springs team. Once more, the defense commanded the court from both sides. Springs controlled the game 25-20 going into halftime.
It was time for the Panthers to readjust. And readjust they did, taking control of the lead late into the fourth quarter, as senior Britney Walker led the team to victory by a clutch three-pointer sending Springs home with a score of 40-39.
"The crowd was as loud as I've ever seen at a sporting event with that many fans," senior Nolan Steeples said. "The Cypress Springs side was dead silence; you could really see the shock in their faces."
The Lady Panthers went onto round four with a chip on their shoulders, playing against an infamous 27-2 Duncanville Panthers basketball team.
Traveling all the way to Buffalo to play, Oak was ready for round four. However, Duncanville put on an excellent show of basketball, controlling the game from start to finish and defeating the Lady Panthers and sending Oak home 84-36.
Klein Oak finished the season with a district title and four-round playoffs run, possibly establishing themselves as the most successful sports team Oak has seen for a few years.
"I inherited a good group of kids that I believe was ready to win," Prejean said. "We made it to the regional semifinals, which was my goal for our team. My job was to create an atmosphere of work and belief to help us achieve that goal."
The girls will unfortunately lose most of their starters due to graduation. So, another test will rise for the Lady Panthers on whether they will be able to reciprocate this year's success.
"Next year's team will be a new team that will have to forge its own path. I believe we can be very good again, but it will be different. Different players, in different roles, being asked to do different things. However, the standard has been set and we will strive to make it at least round four of the playoffs each year," Prejean said.