Demolishing One Rival at a Time
Panthers advance to playoffs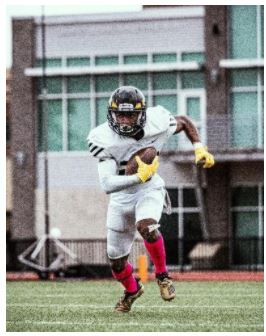 Dominance and vengeance was the storyline last week as the Klein Oak Panthers handily defeated the Klein Collins Tigers and sent the Tigers back to their cages.
The Panthers took on and dismantled the Klein Collins Tigers last week with a shutout 26-0 victory. It seems the loss during week one to Spring is well off in the rearview mirror for the Panthers.
Historically, the Tigers have had the better record against the Panthers since the beginning of the rivalry back in 2001, when Klein Collins High School was first built. However, with this astonishing win, are the Panthers turning over a new leaf?
It certainly seems that way, as the Panthers offense clicked as fast and efficiently as they possibly could last Friday.
"We wanted to run the football but also keep the run-pass option open, this made the Collins defense second guess themselves on whether we were going to run the ball or throw a pass," senior offensive lineman Nolan Steeples said.
And the Oak defense kept up with the efficiency of the Panthers offense by not allowing Collins to reach the end zone once all night, something defenses around the district have a nearly impossible time doing.
This stunning victory made the loss to the Springs Lions in week one a distant memory.
"One thing is its really hard to shut out an opponent, no matter what team. But to do it against a cross-town rival like Collins means a lot," senior linebacker Max Roberts said. "The shutout and win were a feeling that is very special to me and the team."
Roberts went on to say that the team is moving to an elite level this season. "It shows that our program is moving toward elite and we're feeling really confident."
And its hard to contradict that. It seems both sides of the ball are still mad after the week one loss and have kicked their play into another gear.
Thankfully, the team has a bye week this week ahead of the game against the Tomball Cougars. The Cougars may be the toughest opponent the Panthers have faced yet with a 4-1 record. Recording their only loss against Tomball Memorial.
The number one priority for the Panthers will have to be to keep this momentum up. Especially on the defensive side of the ball. As the Cougars have scored at least 30 points per game. A big number for Texas high school football.
For the offense, to keep the running game strong will be the primary concern as the combination of junior Charles Garret and senior Jamal Stephens have been nearly unstoppable so far.