Practice Makes Perfect
Band members prepare for UIL contest season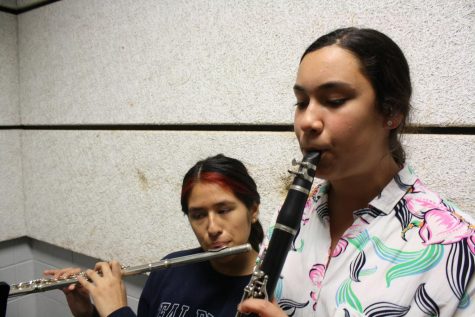 With horns blowing and music sheets flipping, the Klein Oak Band program has been working hard over the past five months in preparation for UIL. Band UIL is a competition where each band is given a score of a 1, 2, 3, or 4 (1 being the highest and 4 being the lowest) based on their performance. 
Each band has a few classical songs prepared and they sightread one piece.
 Depending on the judges at the competition, earning a 1 can be tough. Each band has hopes of doing their best, and students are putting in hours of individual effort to improve. 
 "I can improve personally by knowing my music before class, so I can focus on sounding good beyond the basics,"  freshman Natalie Felefli said. 
Every student should feel comfortable with their music before UIL, so the directors and students take all the necessary precautions to do so. Along with class time and after school sectionals, students also come before and after school for help from more experienced band members. 
With some hard work and a lot of practicing, the Klein Oak Band program will head into UIL with confidence. 
"I think it can be extremely rewarding if we go out there and put on a good show," freshman Benjamin Lovelace said.