Genes In Space
Team of student scientist collect mouse DNA for gene project so man can safely live in space
Not all superheroes wear capes; some wear safety goggles. A group of students are attempting to be a part of a revolutionary scientific breakthrough by participating in the Genes in Space Project.
The project is geared toward high school students, challenging them to answer historical scientific questions about space and giving them a chance to win thousands of dollars of equipment for a DNA lab to enrich learning on the KO campus.
The team consists of sophomores Aidan James, Marcelo Carpenter and Jullian Taylor- Jordan. They are investigating possible GMO (genetically modified organism) probiotics to combat the effects the space environment has on human health.
"They're amazing students," Science Specialist Albert Kisangi said. "I love their passion. If they win it's excellent, and they realize that if they don't win, they still get the learning and as a teacher that's really rewarding."
Solving this issue can affect how scientists approach living in space and even if the possibility of space habitation can become a reality.
"I think it's really important because we are wanting more involvement in space," James said. "We need humans going out in space to be comfortable and healthy."
The team, led by Kisangi, recently submitted their proposal in April after months of research.
"We've been working on this project since February and have recently been putting in a lot of work to get everything finalized," Carpenter said.
This scientific study isn't the first that occurred based on this topic. There have been many studies such as Rodent Research-5, conducted by NASA and Space X, but the results and the concepts learned by this experiment hasn't been fully grasped by the scientific community due to its complexity.
"Right now they've just researched the effect of the microgravity on the gut microbiome and they haven't researched how to prevent the detrimental effects," Taylor-Jordan said.
In this experiment, the KO team of scientists will try to solve the scientific community's questions and examine any changes on the genetic expressions of the enterotypes, a classification system based on gut microbiomes and how this expression could be changed to one more similar to how it is on Earth. They are approaching the imbalance in the gut microbiome in two ways: gene editing and through a change in the diet of the subjects.
"
It's going to be an awesome feeling to see our work sent off to space and to see people working in the PCR lab if we win."
— Marcelo Carpenter
"A lot of scientists are trying to understand what happens to gut microbiomes in space, but we are trying to understand how it happens," Carpenter said.
People on the team are gathering DNA from mice and they are theorizing when the microbiomes in these mice have long periods of exposure to microgravity, key microbes in the stomach will lose functionality and may be lost.
"We're identifying what is changing in the microbiome," Taylor-Jordan said. "Once we identify what can be done with gene editing and dietary changes, we can see what we can do to stop the negative effects of microgravity on microbiomes ."
If their proposal is chosen, they will send four mice to the International Space Station and use a miniPCR machine to edit and analyze DNA to examine their droppings at periodic intervals. Then they will use the droppings to analyze the change in gene expression in the bacteria of the digestive tract to track down the effect of microgravity on the bacteria.
"With the experimental design to get the DNA from the mice fecal matter with the PCR machine, we are examining the DNA," James said. "From there, we can see what is going on inside the gut."
According to information on www.genesinspace.org, the program started in 2015 as a collaboration between miniPCR and Boeing to inspire young minds to solve real world problems in the field of biological and physical science.
If the team wins, they will have their proposal approved and their experiment carried out in space, as well as mentorship with top colleges across the nation.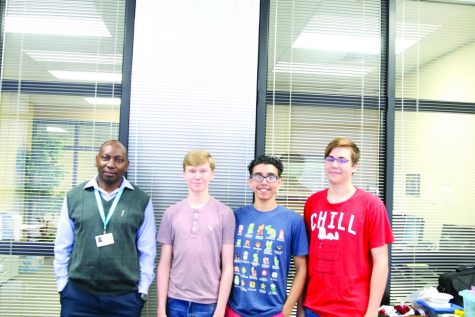 "It sounds pretty cool to be appointed for this program and knowing about the rewards," Taylor-Jordan said.
Along with the benefits, the team can potentially win a DNA lab funded by the sponsors of the competition with state of the art equipment that will ultimately benefit the Science Department.
"It's going to be an awesome feeling to see our work sent off to space and to see people working in the PCR lab if we win," Carpenter said.
Regardless of the team's results, members will know their research could help further solve a scientific problem in the future.
"I think it's a good opportunity as we are taking what we learn in class and applying it to the real world," James said. "It's a labor of love."