Chicks With Sticks
Varsity Softball heads into district play ahead of the curve(ball)
With the crack of a bat and a "Play Ball" from the umpire, Lady Panther Softball swings onto the diamond. The varsity players made it through pre-season and ready themselves to show off what they've got in district 15-6A.
"As we jump into the season, we are planning on playing the best we can and hopefully get to state," junior third baseman Bailey Eggleston said.
In order to get ready, the team prepares daily for the season by practicing every day for hours, making sure they are ready for what any team brings to the field.
"We have had practice every day from 2-4:30 with preseason games on the weekend. We are learning to work as a team so we can win," junior third baseman Kamryn Burks said.
Additionally, as the season begins, the players said they focus on making playoffs and advancing to the State playoffs. But they must overcome some tough competition to get there.
"As we start our season, our biggest competition will be Klein Collins because they are number one in the Houston area. We are hoping to beat them and eventually go to State," sophomore second baseman Allie Saville said.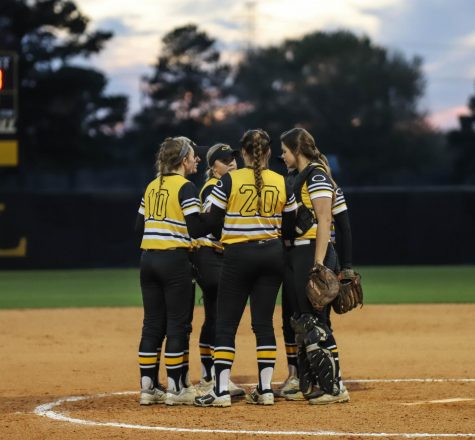 Furthermore, the varsity head coach Barry Wilson also gets the girls ready for the season and biggest competitors in his own way: by making them as physically fit as possible and by repeating fundamental drills.
"During the off-season, we lifted weights, ran sprints, and did agility work," Wilson said. "The best way to prepare my team is through repetition, drills, and competition. Because Klein Collins is our biggest competition, our plan is to just play to the best of our ability and score more runs than them."
Above all, as the players dig deeper into the season, every player and the coach sets the goal of making it to State.
"Every coach wants to win a State Championship. Our goals are to play every game, one at a time, play hard and be competitive, and make a deep run into the play-offs," Wilson said.
Most noteworthy, the girl's thrive as teammates, but they build friendships and have each other's backs. With all the time carpooling back and forth from games, they grow closer and closer.
"Throughout the season I become so close to the girls. We are practically sisters," sophomore outfielder Mackenzie Baldwin said.
Finally, players said they also look forward to the Rivalry Game against Klein High School on March 26 at Klein High at 6:15 pm.
To find the complete schedule and other Klein Oak Softball stats, visit www.kleinoaksoftball.com/