Real-World Issues Addressed By Model UN Members
Students gather in Houston to represent various countries, discuss solutions to international problems
Sixteen KO students attended the Houston Area Model United Nations (HAMUN) conference to debate pressing world-wide current events and craft resolutions with other like-minded students.
Globally conscious students join the Model UN club to represent a country and their values, research current international events and learn the basics of parliamentary procedure in debate.
Members were assigned to represent the nations of Democratic People's Republic of Korea (North Korea), Portugal and Mauritania at the HAMUN conference at the University of Houston Jan. 24-25.
"One of the big things about Model UN is students work together and learn how to share their ideas," junior Corbin Cater said. "A big thing is collaborating and coming up with mutual compromises to create better solutions."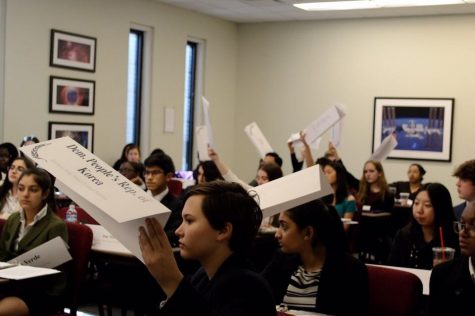 Cater, a second year Model UN member, represented Portugal in Special Political and Decolonization Committee (SPECPOL). He and other SPECPOL delegates spent two days discussing issues such as the economic crisis in Venezuela and drafting resolutions to use UN power to solve the problems.
Networking and alliances are key to passing resolutions, and making friends is great outcome of the conference.
"It was awesome. There is an overwhelming sense of camaraderie," Cater said. "Everybody was working toward the same thing, and everyone had a good, helpful mindset."
Junior Hajar Mohammad is a second year Model UN member who represented DMRK in the United Nations International Children's Emergency Fund (UNICEF). UNICEF discussed topics such as infanticide and water sanitation in Nigeria.
Mohammad researched for months to adequately portray North Korea's sociopolitical views.
"In the beginning, it was difficult prepping for the conference itself," Mohammad said. "As I researched more and really got a feel for North Korea's ideals, speaking up in the conference wasn't hard."
Model UN allows students the opportunity to view world issues through the lens of another nation's history and sentiments, giving them a new perspective on international affairs.
"The Model UN conference was extremely beneficial, informational, and all-in-all a great experience," Mohammad said. "You should go to a Model UN conference at least once in your life. It gives you a different cultural understanding that is really important."
Several delegates received awards for their impressive performance during the conference. One such member is Skylar Dixon-Englert, who received "Outstanding Delegate" award for her portrayal of North Korea in the SOCHUM committee.
The Model UN club plans on participating in another conference hosted by Rice University in April.