QR Code Available For English Honor Society Applications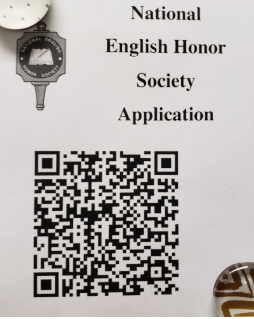 New to Klein Oak High School, The English Honor Society is a prestigious, nationally recognized fellowship for those who love writing, reading or anything English. It will be organized by the Dual Credit teachers, Christine Brown and Alec Brewster.
The society benefits all students as it will look better on college applications and expand knowledge in writing and editing. Many scholarships are also awarded to students who graduate as a member along with awards and recognition.
Duties will be to attend two meetings and participation in drives, fundraisers and author/writer/editor meets.
Requirements to join English Honor Society:
1. Have taken or currently taking an advanced English course
2. A GPA a 3.0 or more on a 4.0 weighted scale
3. Have never been written up for plagiarism, cheating or dishonesty
In order to apply scan the QR code down below or click the link to enroll now.
The deadline for the application is Wed., Feb. 27, 2019, and there are already a whopping 200 applications and it's increasing as the days go by.
Applicants will be notified of their acceptance the week after spring break.
Link below for Google Form
https://bit.ly/2ItBtTo