Marching Into History
Band advances to state level competition this weekend in San Antonio
It's been 40 years in the making, but the Klein Oak Band has finally earned it's marching orders as they advance to the UIL State Open Band Marching Contest for the first time in school history.
"My emotions about it are complicated, but I love the positive impact it is having on the band kids," 17-year Head Director Todd Clearwater said.
The impact of this season surely has affected the program as the band has already received top ratings at competitions such as Bands Of America (BOA) North Houston Regionals, the Lone Star Preview, and the annual UIL regional contest. 
"I love having gotten to witness the program's growth over my high school career," senior  and Drum Major Kailyn Nonhoff said. "I am looking forward to getting to share in this experience with the band community that I love."
Band members will be experiencing both the BOA San Antonio Contest as well as the state competition this weekend, spending a total of four days in the city. 
"The best thing to focus on going into BOA San Antonio, as well as the UIL state marching competition, is to do everything the same as we have been doing," sophomore Leeroi Mathes said. "Even in the occurrence of an unwanted result in the competition, the time spent should be cherished."
The band has been rehearsing the space-themed show, 'Are You Out There?' since August 1, spending over 100 hours putting forth effort and enthusiasm to complete tedious rehearsals. while braving the elements and the stresses of school.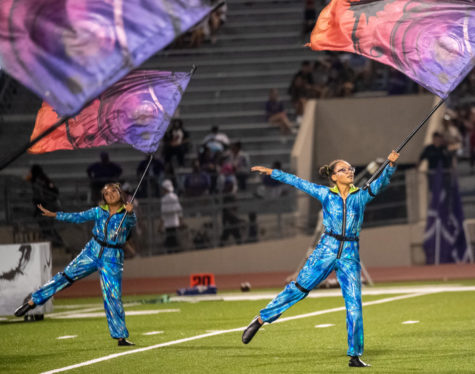 "What has helped me overcome the difficulty of some of our rehearsals is to remind myself of the feeling that comes from an excellent performance," Nonhoff said. "I believe it is important for me to try my best out of respect for the other people in our program."
Now that the rehearsals have paid off, band members have said they are proud and excited to be able to compete at the highest level in the state.
"Opportunities like these don't come too often, so it's best to live for the moment," Mathes said.
While the marching competition steps up for the last note, Clearwater recognizes the achievements of the group and said he is proud of their successes.
"This year has been filled with these little moments where I have seen the group begin to have faith in themselves," Clearwater said. "My favorite part is watching my students' faces when they are fully brought in, fully engaged, and concentrating like mad."
As a final sendoff before the competitions begin, the band will be performing their show for the last time in Houston on Friday, Nov. 5 at 6:30 p.m. on the practice field at Klein Oak.