Swimming Into State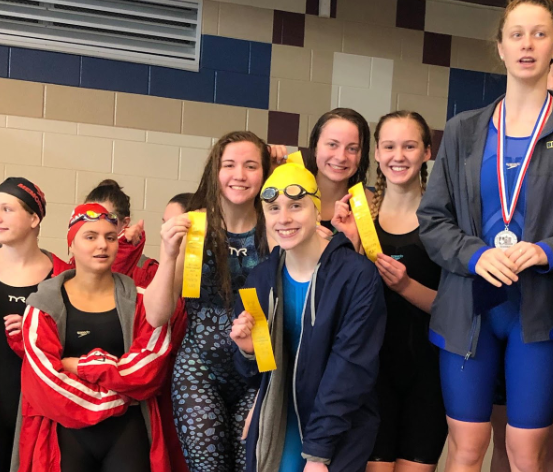 Swimmers of Region Six gathered in the Woodlands Natatorium in Shenandoah ready to swim their hearts out to see if they would make it to State the weekend of Feb. 16. Thirteen swimmers that qualified from districts competed Friday and Saturday, Feb. 2 and 3.
The Boys 200 Medley Relay with junior David Oderinde, junior Collin Fuchs, freshman Brendan Massey and sophomore Hunter Bangham went to finals and finished second with an automatic qualifying time for State. They also made state in the 400 free relay with Oderinde, Fuchs, Bangham and freshman Hunter Lund.
"To prepare for our relays, we practiced our relay starts to make them as fast as possible and also legal so we don't get disqualified," Oderinde said.
Oderinde also advanced in individual events, competing in the 100 fly and 50 free.
"My plan for the 50 free and 100 Fly at State is to get myself in a good position at preliminaries and go for it and give 100% and do my best to win in finals," Oderinde said.
In addition placing 3rd at Regions and advancing to State, junior Emily Mack will be competing in the 1 meter dive for the first time and her goal is to place top three.
"This is my first time going to state and I'm extremely excited to be going," Mack said. "I am preparing myself for the meet by practicing all my dives every day for at least three hours during my club practice."
Also advancing in an individual even, Lund will be competing in the 500 free hoping score points points for the team.
"Making State was a huge accomplishment that I've been training for all season, and it was another challenging step closer to my personal goals," Lund said.
Also representing Oak swim at State, Fuchs will be swimming 100 Back for the first time and is expecting to drop time and win the event.
"My region 100 [back] was a good time. I was only rested, so I know I can go faster," Fuchs said. "With me shaving and tapering, I'm getting focused on State in hopes of being a medalist."
The girls in the medley relay, freshman Avery Fuhr, freshman Annie LeBlanc, junior Zoe Uehlinger and sophomore Taryn Kooyers placed 4th going into finals with a chance of going to state. This motivated the girls to swim harder and faster than ever.
Although the team didn't make it to State, Fuhr said she pushed herself to go as fast as she could because she didn't want to let the other girls down.
Other outstanding swims were, senior Riley Klawiter in 100 Free, junior Paulina Braden in 500 Free and 200 Free, and senior Regan Newton in 500 Free and 100 Breast.