Duel in the Pool
Swim, Dive plunge into 1st big meet of year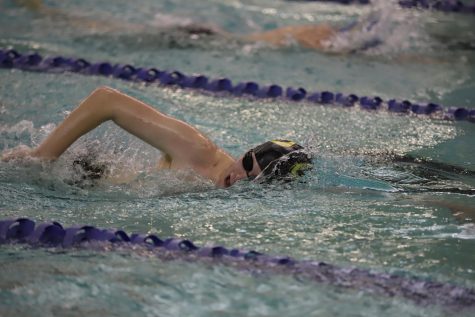 Five Klein ISD varsity swim teams and their screaming fans packed the Klein High Natatorium Nov. 8 for the highly anticipated annual Duel in the Pool Meet.
"This is a huge meet for the Klein ISD swimmers because so many of them are on the same club teams," coach Kyle Subda said. "It's fun for them to get to compete against each other when the stakes are high."
The Oak divers commanded the boards with junior Emily Mack and sophomore Brady Gottula taking first place in their divisions. Gottula scored 249.50 points which is a meet record.
"My best dive is probably my inward, but I also did a reverse double," Gottula said.
In addition, Mack outscored her closest opponent by almost 60 points with a 248.35.
Next, Klein Oak Swim exploded off the blocks as both men's and women's teams won second place overall and showed what fans can expect when these teams meet again at the district championships.
"It was exciting to see the freshmen swimmers really show up," Subda said. "They will only drop times from here and should do well at the district meet."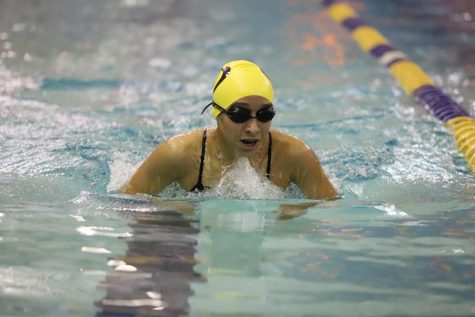 Several swimmers hit the wall first and scored top points in their events. Junior David Oderinde won the 500 Free, which is 20 laps at a race pace, with a time of 4:48.84.
"It felt great to win because I haven't swum this event in two years," Oderinde said. "My goals this year, though, are to win state in the 100 Fly and the 100 Free."
Other winners include freshman Annie LeBlanc in the 100 Breast with 1:08.93, junior Collin Fuchs in the 200 Free with 1:43.58, senior Riley Klawiter in the 100 Free with 56.16 , and the Men's 200 Free Relay (freshman Hunter Lund, sophomore Hunter Bangham, Fuchs, and Oderinde) with 1:30.39.
Oak Swim continued to bring in big points throughout the meet with medal and ribbon winners even though the season is just starting.
Bangham swam for red in the 100 Free with a 49.73. "I'm happy with my time at this point in the season," Bangham said.
The swimmers and coaches will continue to reach for their team and individual goals as the season progresses. The next varsity team dual meet is Senior Night at the Klein Oak Natatorium on Thurs., Nov. 6 at 6 p.m.