In The Spotlight
Trials and tribulations of a little mermaid highlights bigger issues at hand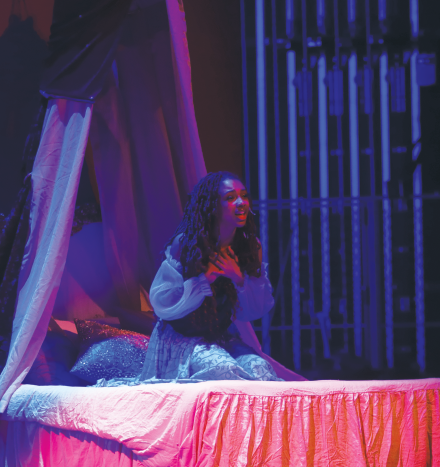 For five nights, four of which sold out, junior Tyler Warnie enchanted audiences with her portrayal of Ariel in The Little Mermaid Musical. After the show, crowds flocked around her as she stood in a puffy white wedding dress, signing autographs and taking photos with little girls dressed in colorful princess costumes. 
"It was such a gratifying experience to know I made so many people happy, especially while being a Black Ariel," Warnie said.
Warnie's voice and demeanor were perfect for the part, but she doesn't look like the typical cartoon Ariel with pale skin and straight hair, which resulted in her facing some backlash. 
"I have faced a lot of ignorance about my casting," Warnie said. "Some assume I was only cast to fill a racial quota or that Ariel should have been left to someone paler."
Warnie faced opinions like these and other racial roadblocks numerous times, even dating back to middle school, which affected how she felt about taking on a role traditionally played by a white woman. 
"It was intimidating," Warnie said. "No matter how hard I worked or how good I sounded, someone would always doubt the casting and my abilities."
In May of this year, the live-action version of The Little Mermaid will be released with Halle Bailey, an African-American woman, playing Ariel. Due to this casting choice, the movie has been experiencing backlash making the casting choice controversial to some.
"The controversy is beyond ignorant. If you are mad at a Black little mermaid, you need to get your priorities in order," Warnie said. "Firstly, while she is Danish in the original piece, she also dies after sacrificing her life because she didn't want to kill the prince. Secondly, there is a Jamaican crab, so why is it bothersome that Ariel is Black, too? Thirdly, in the original Broadway production, Disney cast Triton as a Black man with locs."
Lack of representation in media is a pertinent issue. When opportunities emerge for diverse casting like the live-action The Little Mermaid movie, they have only faced resistance. 
"Growing up, I never really saw people that looked like me in the media, and as a result, I dreaded being Black," Warnie said. "I wanted to be like all the other kids and not have such a different hair texture and skin tone. I thought my existence was truly wrong."
Warnie stresses that it is essential for people, especially little kids, to see themselves and their friends in the media.
"Representation would allow another little Black girl to avoid the same experience as me and grow up confident in her blackness," Warnie said. "She wouldn't constantly feel the need to speak in a certain way to avoid bullying, wouldn't feel the need to straighten her curls to feel beautiful, and wouldn't wish for her skin to be lighter."
Children filled the auditorium when Klein Oak Theatre's Booster Club hosted a character breakfast before the musical's opening. The kids were able to interact with the actors like Warnie while playing fun games, singing and dancing along to music, and enjoying pancakes. At the breakfast, the actors got their first chance to interact with people in character and see how the public received them. 
"I saw all these girls running up to Tyler," senior Jessica Torres, Ariel's understudy and Mersister in the musical, said. "They were just in awe of her, and it's like they put color to the side and were amazed at who Tyler was and who she embodied."
After the shows, the little kids that filled the auditorium seats, many in sparkly princess dresses, had the opportunity to get signatures and pictures with the characters. 
"I just saw their faces light up," Torres said. "They had just watched Tyler kill it on stage, and then they had the chance to go up to her, talk, take pictures, and just like look up to her and really appreciate her for what she did, her talent, and who she is."
Children of all ethnicities getting to see representation has benefits beyond the boundaries of color.
"I think that kids, in a way, teach their parents lessons," Torres said. "I think once parents see their child looking up to Tyler, it's important for the parents to learn from their child and how they can be in awe of someone who is an African-American lead, playing a traditionally white character. Kids really don't make that big of a deal about race when it comes to it, and it's just about who got the part and who is beautifully embodying that character."
Despite the trials Warnie has faced, she has served as a figure illuminated by the spotlight on stage for young kids. 
"I see myself as a role model for little Black girls as they can be inspired to pursue the arts and not feel confined to certain venues that are defined as Black," Warnie said.