Fashion Forward
Panthers strut their stuff with style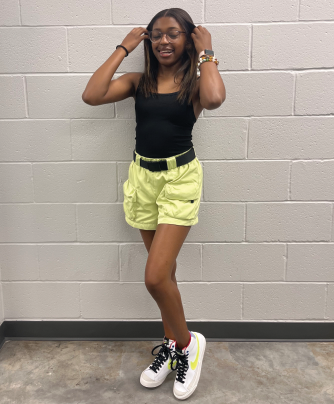 From the shoes on their feet to the hair on their heads, Panthers have all types of styles that couldn't be more different from one another. The person behind you, the one on the side of you, and even you all have something different going on with their fashion sense. 
What makes each of our fashion senses so different? Fashion expresses the person who created it and reflects what they think, feel, and have been through. Every day, when you wake up and get dressed, you're showing a little piece of yourself to the world, but everyone's fashion means something different to them.
"I think fashion says everything about somebody. To me, fashion is a way of expression," junior Shane Smith said.
Fashion can help people comfort themselves. How do you find your style? Fashion isn't just what you wear but also your persona and how you speak. To find your style, you must be your most genuine self. 
People dress in things they might find cool or stylish or even funny or something they saw on tv, which can give them something to connect to in their style. Others can dress in things that connect them to what they are interested in and things they care about, from honoring someone or something to just wearing something they saw an actor or musician wear. 
Fashion has a much deeper purpose than you would see on a surface level, and people can expand the way they dress by taking inspiration from others and finding the unique style that fits them and may not be what others like but what they like.
"There's no good or bad fashion. There is just what people feel like wearing. Some people may think Shein's clothes are fashionable; others may think they're the ugliest thing ever; everyone has a different style," junior Alyssa Dickerson said. 
There is a different kind of fashion, though, the modern fashion that most people find themselves in. It is the type of fashion that draws inspiration from modern pop cultures and trends, and this fashion is usually for a more youthful group that you would find at places like Shein. This style is trendy fashion.
This style is what most people subscribe to and what you might see trending on social media. This is the style of the times that define eras of fashion. This fashion era is far different from others in part because of the age of media. The spread of information through social media makes information easily accessible to anyone who wants it.  
Because of this easy access to information, people see all types of fashion and styles from all different eras. Some people go back in time and take on more 80's or 90's inspired outfits, while others prefer a more contemporary style that fits into modern fashion trends.
This spread of information and accessibility has allowed for styles to branch out in new ways that have yet to be done, with all the other types from the past and presently available to people who thrive on making something new like many of the designers today, like Rick Owens who pushes a more gothic and minimal yet elaborate style. 
"I wear the same outfit every day a black shirt, pants, and a black hoodie. It's not a bad outfit, and it's comfortable for me to wear to school, and I feel like all black represents me well," junior Mark Ramath said.
Fashion isn't measured by good or bad but by how well it represents and fits the person who wears it, as fashion in its purest form is the creative expression of the wearer, and in the modern day, the ways people have to express themselves through fashion has become endless in the possibilities.