An Ox-citing New Year
Lunar New Year festivities of 2021 bring students hope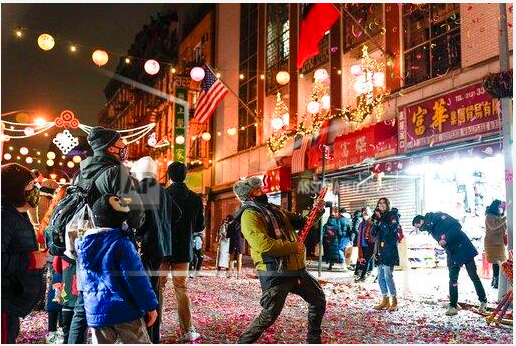 Celebratory pops of firecrackers speckle the sounds of festivals with dragon dances, music, and Chinese lanterns. This thrilling merriment stems from the Lunar New Year, a time of cultural pride, family gatherings, and new beginnings. 
The holiday is celebrated primarily in China, Indonesia, Malaysia, Singapore, South Korea, Vietnam, and countries with large Asian populations. 2021 is the Year of the Ox, an animal representing reliability, strength, trustworthiness, hard work, tranquility, and patience, foretelling of new movement after a year that felt stagnant. However, oxen also symbolize opinionated stubbornness. 
Lunar New Year celebrations feature little red envelopes, called "lì xì" in Vietnamese or "hóngbāo" in Mandarin, contain lucky money which elders and adults give to children or unmarried people to wish them luck in the upcoming year. The red color of the envelopes symbolize good luck and prosperity in Asian cultures.
"As you receive the red envelope, you wish that person a Happy New Year and what you want for them," sophomore Grace Luu said. "And when they give you a red envelope it comes with good luck and their wishes for you. Mainly, it's always 'have good grades', 'go to a good school', and all that stuff, very typical stuff from older people." 
Quite often, young people celebrating Lunar New Year get creative in the ways they spend the contents of their fortune-filled envelopes. The amounts of money given in hóngbāo never include the number four, because the Chinese word for "four" sounds like the word for death. On the other side of the spectrum, amounts including the number eight are said to bring good luck and prosperity.
"Every new year my whole family gets together," sophomore Anna Dang said. "It's a great time with the kids who celebrate with money they get from the adults. Sometimes we gamble right after!" 
High spirits and gleefully played games are a commonality in many celebrations of the new year. Some students believe in celebrating with at least one game every holiday as a tradition for continued happiness and luck.
"We get a dragon piñata and the little kids beat it up. Inside are 2 dollar bills," senior Adam Nguyen said.
Although specific celebratory practices change from culture to culture, all Asian cultures celebrating Lunar New Year focus on family during the time of newfound rejuvenation and hope.
"Every Lunar New Year, we go to temple to pray and then we have a family gathering at a cousin's house," sophomore Jacklyn Vo said. "We take pictures wearing traditional clothing called ao dai, eat, and then the adults give the kids red envelopes of lucky money. Later, we play traditional Vietnamese games or cards."
The lì xì or hóngbāo are often seen with art featured on one side of the scarlet paper. These images range from sketches to miniature full color works depicting entire scenes.
"We celebrate with red packets and eat Chinese food," junior Abigail Stuba said. "I would even wear a traditional Chinese dress with hair pins if I went on campus. It is a way to connect myself back to my Chinese roots."
With all the excitement that comes from acquiring countless red envelopes full of money, it can be easy to forget about the true intentions behind the festivities, but there is no better time for personal growth and a sounder mentality than the new year.
"I didn't really understand Lunar New Near to its fullest extent until this year," Luu said. "I'm pretty sure it's because in the past years when I celebrated it, I was genuinely blinded by money. But I celebrated it this year with a better mindset and deeper understanding. It's mainly about appreciating your future and your elders."
While the battles that began in 2020, the Year of the Rat, are still being fought in the new year, the Year of the Ox is a hopeful sign for many, symbolizing strength and determination. Happy Lunar New Year.