Students Help Voices Be Heard
Through Project Vote Oak, high schoolers help community for Presidential Election
The deadline to register to vote has already passed in Texas, but through the National Honor Society (NHS) and other programs, students were able to participate and help out the community. They set up voting registration booths beginning before the first day of school and continuing until the last day to register.
Project Vote Oak is it's own separate chapter from the organization called When We All Vote that helps all eligible voters get ready to vote, not just including the Presidential Election. This was introduced to the NHS by their vice president senior Rommel Caballero Juarez in an attempt to engage the community and eligible voters in the election.
After creating teams of at least 4 dedicated members, a squad captain was chosen to lead the group and organize their booths. Seniors Lucia MoraUrbina and Vinh Nguyen are the captains of their respective groups.
"My goal was to help younger people register for some reason that day there weren't that many young people," MoraUrbina said. "It's hard work in helping people register in general."
Organizing these booths and getting in contact with businesses that allow for these registration booths to be held outside their location is one of the challenges MoraUrbina and Nguyen came across.
"The biggest challenge we faced was finding somewhere who let us set up a booth. During this pandemic," senior Vihn Nguyen said. "it was extremely hard to find local businesses that allow us to set one up. Big businesses like Walmart and Costco couldn't allow anyone at all to set up a booth, so it was a challenge. However, in the end, we figured things out –– so that's great."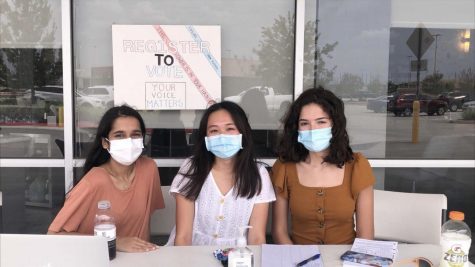 MoraUrbina's team of around six members were able to find some businesses as well and set up booths. They engaged around 11 eligible voters to register or at least pick up the registration form from the booth.
"It just surprised me a lot how many people said that they were eligible to vote and don't have any restrictions, but they really just didn't want to vote," MoraUrbina said. "It was super hard to get people to register, but even getting a few people [to register] is awesome, even if you don't know that they're going to fully register, just giving them the form is awesome."
At the moment, voter engagement in early voting has definitely increased from the 2016 election with a 70.9% of the total votes counted from the 2016 general election according to The United States Elections Project findings. As the election draws near, any way to get involved even if students are eligible to actually vote presented many opportunities.
"I thought the experience and the position were really important to me especially since Texas has one of the lowest voter turnout rates in the nation," Nguyen said. "It was great knowing we're contributing little by little to increase voter engagement despite not being able to vote ourselves because of age."