QuaranTUNES
Spotify junkies create music collections for stay-at-homies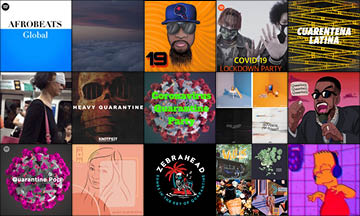 Usually when I'm in a boring, stressful, or uncomfortable situation, music helps me feel better. This trait isn't exclusive to me, and it's definitely not one that's evaded the COVID-19 quarantine. Hundreds of Spotify users have gone out of their way to make specialized playlists just for the quarantine season. But since there are so many, I've taken the time out of my busy (not so busy) day to listen to these playlists and rate my top three in every genre.
General Quarantine Playlists
One common theme with Quarantine playlists is that all the songs have titles that somehow relate to being sick, being lonely, or washing your hands. Although it's funny, this can lead to a playlist with a jumble of different genres. It's not uncommon to find Travis Scott's "Sicko Mode" being played after Bon Jovi's "Livin' on a Prayer". I have an incredibly varied taste in music, so it didn't bother me all that much. However, those that listen to exclusively rock, rap, pop, or others will have a tough time listening to these playlists.
1. COVID19 Quarantine Party by Roberto Rodriguez – I loved this playlist. Despite the different genres, many of the songs were popular songs that most people know and can enjoy. Also, it was one of the few that included the Vietnamese bop "Ghen Cô Vy.
2. quiet quarantine by mxmtoon – This playlist only has 20 songs, but I feel like that's what makes it enjoyable. Because there are so few songs, there's less opportunity to include random songs that the general public might not enjoy. Mxmtoon included songs such as "Burnin' Up" by the Jonas Brothers, "So Fresh, So Clean" by OutKast and "U Can't Touch This" by MC Hammer. Also, if you have time, go listen to mxmtoon's music after.
3. CORONAVIRUS QUARANTINE PARTY COVID-19 2020 by DJ – This playlist has significantly more songs than quiet quarantine, but it's not excessive. It features songs such as "Toxic" by Brittany Spears and "Never Gonna Give You Up" by Rick Astley. Under no circumstances is this a playlist to listen to when you just want to sit and be calm. It's more for moments when you feel like dancing and singing at the top of your lungs.
Rock and Indie Quarantine Playlists
1. Indie Quarantine by bkelly5192-us – I have a soft spot for Indie music, so this playlist made me really happy. Despite its significant lack of quarantine song titles, it's a fun playlist to vibe to at 1 a.m.
2. Heavy Quarantine by Knotfest – This playlist follows the trend of quarantine song titles; "My Plague, "To Be Alone", & "Bored" are just a few. It's mostly heavy metal so there is a lot (and I mean a lot) of screaming. Just a word of caution, DON'T listen to this when everyone's is asleep, or you'll get into trouble with your parents.
3. Songs in the Key of Quarantine by zebrahead – This playlist has a healthy mix of different kinds of rock: alternative, heavy, funk, classic. Again, it doesn't have the classic COVID-19 titles but it's still fun to listen to.
Rap and Hip-Hop
1. COVID-19 Quarantine & VIBE by Strizzo – this playlist features current rap hits but also mixes in '90s and 2000s hip-hop (although, there was a random appearance by Luke Bryan which was unexpected). It definitely lives up to its name, however, because every song made me want to dance and vibe.
2. COVID-19 Quarantine Lockdown Party Anthems (TikTok hits 2020 RnB/HipHop) by Ryan Rathnayake – Ignoring the incredibly long name, it's a pretty good playlist. While it still has some quarantine inspired songs, it doesn't stick to the theme for most of the playlist. Also, despite having TikTok in its name, most of these songs are not TikTok trends.
3. Quarantine Radio by basshall – This playlist has newer rap songs, but it mostly includes Tyga and Tory Lanez. If you're a big fan of either of these artists, this is a good playlist for you.
Pop Quarantine Playlists
1. Quarantine Pop | COVID-19 Stay Home Pop Music by At Home Playlists– This one already starts off great, letting everyone know that they need to STAY HOME. This playlist contains both current hits and early 2000s songs. Once again, this is a very upbeat selection of songs, so be prepared to jump and boogy all around your house.
2. quarantine vibes by Maya Falcon – This playlist definitely fits the description of vibe. It makes you want to dance and sing, and that's a pretty great feeling in these trying times.
3. Best Quarantine Lofi 2020 by TJ Jones – I don't know if lofi qualifies as pop, but I'm including it in this list. If any of you have ever watched the animated girl on YouTube do her homework, you know just how chill and relaxing this playlist is. Since there are no words, it's good for doing homework or any task that requires your full attention.
Honorable Mentions
1. Cuarantena Latina by Toplist
2. Afrobeats Global Quarantine Playlist by nigeriamusic
3. Quarantine Vibing by Chase Ressler