National Signing Day
36 student-athletes commit to college level
Complete list of students and college commitments
A student-athlete's most exciting moment can be receiving a scholarship offer from interested colleges. Many years of hard work, sacrifices and dedication have led up to this moment. The Class of 2019 had 36 athletes attend National Signing Day on Feb. 6 in the large gym to pledge to their intended university in front of peers and sign binding contracts.
"It was very exciting to commit to my school of choice [Texas Wesleyan University Fort Worth] next to my friends and family at school," senior football player Garrett Butler said. "For me it showed that I am serious about my future football career."
By playing a sport, students can have a peace of mind and feel secure about the upcoming years by automatically having a school reach out to the from the outstanding athletic and academic performances.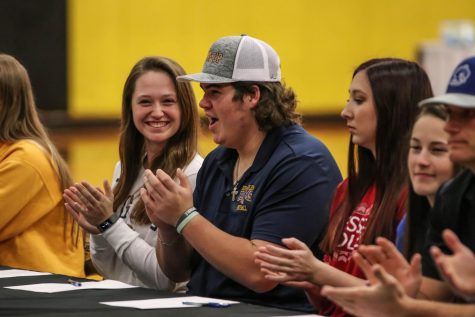 "When Ouachita Baptist University reached out to me, It felt like I was one step closer to having my future figured out," senior softball player Lacy Ornelas said. "It was a huge relief to not have to worry about what school I would be going to."
Many students give credit to helpful parents for the success they have had. Not only do the athletes makes sacrifices, but parents do as well, with the hopes of seeing their children succeed.
"My family has been my biggest supporters," Ornelas said. "They are at every game and they helped me through the whole recruiting process. I defiantly could not have done it without them."
Coaches also have a major effect on an athlete's performance. At the event, past coaches from middle schools made an appearance as well as former head football and athletic director, Coach David Smith who coaches at oak for 22 years. Coach Jason Glenn has also been involved with these athletes for the past four years as well.
"I hope I left an impact on those kids wanting to earn their degrees," Glenn said. "The importance of Coach Smith's role in Klein Oak athletics is something that the kids need to see. We're proud of our heritage and I wanted the kids to understand how Coach Smith played a big role in athletics."
Twelve of the signing athletes are attending Division 1 schools to participate in the sports program while receiving an education. In a D1 school, the athletes are more competing at the highest level, with some of the best athletes in the nation, including Olympians.
"I feel so blessed to have been given the opportunity to attend Army United Sates Military Academy to play football," senior football player Gerald Irons said. "I have prepared myself with the help of my coaches to play at this level and I'm pretty confident with my skills. I'm just ready to take on this new chapter in life."