Klein Oak wins 5-set Thriller over Cypress Falls in Volleyball Season Opener
The Panthers took to their home court Tuesday night to open their 2018 Volleyball season under new Head Coach Cherise Coleman, and they did not disappoint their boisterous crowd of fans and supporters. Klein Oak dug deep and found a way to survive a five-set thriller to defeat visiting Cypress Falls, 25-18, 18-25, 25-19, 21-25, 15-7.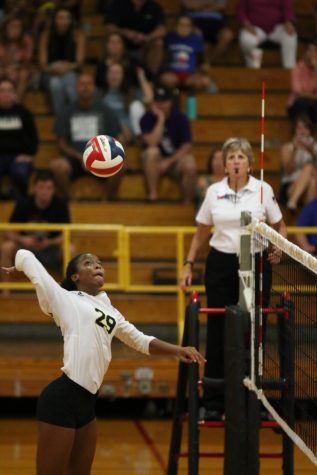 Despite dropping the second and fourth sets, the Panthers (1-0) rallied in the fifth and were finally able to put away the Golden Eagles (0-1). They went ahead early in the shortened fifth to grab a lead, and then expanded it to 10-6 before notching five of the last six points of the game to clinch the victory.
"I'm extremely excited that not only did our varsity team win, but all three of our teams were victorious tonight, including the JV and the freshman team," said Coleman. "So we are off to a fantastic start and getting on the right track. We are out there playing with passion, grit and heart, and it was a great sight to see that we can finish. Cy Falls has a great team and a very experienced coach, and we picked up our level of play at the right moments in order to beat a solid program."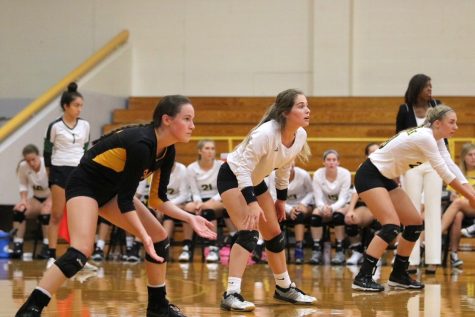 Senior Setter Adel Gage liked the way the new core of starters came together so quickly on the court, with it being the first match of the season. In the first set, Cy Falls jumped out to a 7-4 advantage before the Panthers went on an 8-0 run to take the lead, and they went on to win the set, 25-18.
"Our energy was really high tonight and we figured out a way to get the win," said Gage. "Half of our players are new to varsity, and along with a new coach, we just haven't had much time together. So we have a lot of room to improve and this team has so much potential."
Klein Oak will next play in the Katy/Cy-Fair Tournament, August 9-11.