America United
Biden sworn in as Commander-in-Chief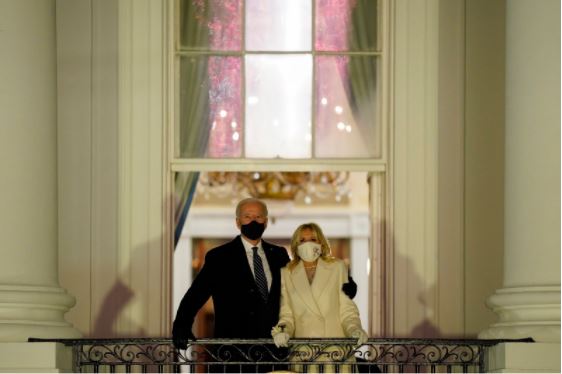 With his right hand lifted and his left hand resting on his family Bible, Joe Biden was sworn in as the 46th president Wednesday, Jan 20. Just six minutes before, Vice President Kamala Harris was sworn in as the first female, African-American and South Asian vice president in the history of the United States.
"I feel better about Biden being in command," junior Doxie Otero said. " I feel as if he's more professional and less corrupt than the last president."
The day marked a pivotal moment, following a controversial presidency by Donald Trump who refused to attend Biden's inauguration. The decision was applauded by some, mostly those who supported Trump or considered the 2020 election to be fraudulent, while those who opposed Trump berated the move.
"Though I agree with many of Trump's policies, I think it's probably better that Trump didn't go to the Inauguration," senior Jessica Rinkle said. "I think if Trump had gone, there would be other extreme republicans who would follow him. It may have ended badly."
In addition, the inauguration was attended by over 20 thousand National Guard members in light of the riot at the Capitol Jan 6. Despite this large number, the number of people in the audience was significantly reduced, as COVID restrictions were still in place. In their place was the "Field of Flags", an art display in the National Mall containing 20o thousand flags that represented every American that could not attend the event.
With the theme of America United, Biden called for unity in his inauguration speech stating that his whole soul was dedicated to uniting the nation.
"We must end this uncivil war that pits red against blue, rural vs. urban, conservative vs. liberal," Biden said. "We can do this if we open our souls instead of hardening our hearts."
In addition to this, Biden made clear his plans to attack the climate change issue, racial injustice, and coronavirus. After acknowledging the 400 thousand COVID deaths in the nation to date, Biden called for a moment of silent prayer.
"Biden has experience and a demonstrated concern for the problems of American, including and especially the COVID-19 pandemic," senior Andres Rodriguez said. "I'm hopeful that he will put more policies forward that shorten the recovery time of the pandemic by focusing on expanding vaccine distribution rather than focusing only on the economy."
Not everyone agrees with this sentiment, however.
"Biden isn't a good president," sophomore Cameron Reid said. "He just likes to take everyone's rights away."
Biden knows almost half of voting Americans chose the other guy, so he is trying to gain trust of them as soon as possible.
"I ask every American to join me in this cause," Biden said later. "Uniting to fight the foes we face: anger, resentment, hatred, extremism, lawlessness, violence, disease, joblessness and hopelessness."
With this mentality, Biden hopes to use his presidency to overcome Coronavirus, make schools safer, rebuild the middle class, make healthcare more secure, and eliminate religious injustice.