Get Your Head in the Game
Oak becomes fourth Klein school with eSports team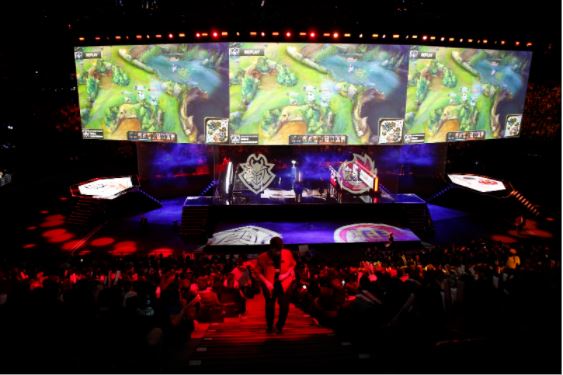 What some used to consider a mindless pastime has become a serious industry, providing opportunities for gamers everywhere. Esports continues to grow in popularity, and the industry is quickly spreading worldwide, including in Klein ISD. Starting the second semester, Oak became the fourth Klein ISD school to have an eSports team.
"I was incredibly excited as I am very passionate about games as a whole," junior Malachi Burke said. "Being able to represent my school while doing something I love sounds amazing."
With over 40 students planning to join the team, the club is projected to be a great success. The games they will be competing in, however, are yet to be decided.
"We're still in the process of evaluating which games the organization will be sponsoring teams for," sponsor and CTE tech teacher Rigoberto Zavala said. "The two competitive leagues we are planning to participate in, High School eSports League (HSEL) and PlayVS, host competition seasons for Overwatch, CS: GO, Rocket League, League of Legends, Valorant, Rainbow Six Siege, CoD: MW, and Smash Bros. Ultimate to name a few."
The eSports competitions will be structured similarly to other traditional sports. The teams will compete at a district level and move up to national competitions based on performance in the gaming season. In addition to this, there is also friendly banter between the participating Klein schools.
"Each school's organization will submit four 'champions' to compete in a KISD 'tournament of champions' event in order to determine which school has the best players for a chosen game," Zavala said.
This high school gaming trend follows the growing number of college eSports teams. According to WIRED.com, almost 200 colleges and universities are offering a total of $15 million per year in scholarships for eSports. Of these schools, Maryville University of Saint Louis is considered the best due to its ongoing success in League of Legends tournaments.
"I've been playing League of Legends for four years now, and it has let me connect with many people," junior Richard Le said. "If given the opportunity to do eSports in college, I may take it, though I don't think I could personally make it a career."
COVID-19 affects how club activities can be run, and eSports has not escaped the consequences.
"While we're still in this virtual-only competition environment, any games that a student is competing in will have to be done using their own hardware," Zavala said. "Once we move to an in-person format, PC games will be played out of the eSports lab that we have set up."