Two Man Dream
Self-made cadet team wins competition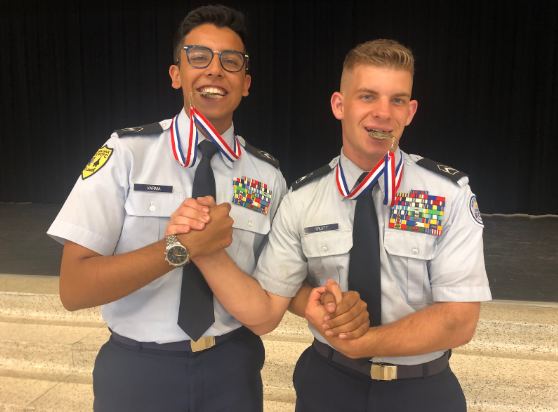 While competing in the Hal Aaron Drill Meet at McNeil High School April 6, the Air Force Junior Reserve Officer Training Corps [AFJROTC] took home many trophies but one team stood out from the rest. The two-man Armed Tandem Team won first place.
"I was already on a drill team, but I wanted to enhance my skills by learning different drill moves with the rifle," junior Yash Varma said.
The Armed Tandem Team is made up of two people marching in a sequence with rifles. Although one is the commander both make up the sequence together using their own skills to complicate it to their style, of liking
"Making up the sequence was very challenging, but I loved every moment of it. Levin [junior Levin Truitt] and I got to display our own person skills as well as show how great of a team we are together," Varma, who is the teams commander, said.  "Tandem gave me the freedom to choose whatever I wanted and make it something personal."
With this freedom they, have the chance to show their unique skills that they've learned together. While performing for the judges the two cadets showed how much dedication they put into their sequence.
"I chose to do it with Yash because we have been great friends since freshman year," Truitt said. "We bond great together, we work well together, and overall we are a good team."
To add to the stress of completing the duo noted the judges were cadets from The A&M Corps of Cadets. They said having judges of such high caliber intimated them a little, causing them to make some mistakes, but they kept their composure.
"When we performed, it felt stressful to be honest. We saw that these judges were from A&M and we know the Corps has high expectations. When I dropped the rifle three times, I was certain that we had lost," Truitt said.
Besides the few hiccups in the performance, they had majorly impressed the Cadets from A&M.
"One of the judges told us that they usually look at the sequences they judge and try to incorporate some of the moves into their own, but they told us they just could not do that with ours because of the complexity of our moves we used," Varma said.
Varma and Truitt majorly impacted the other cadets in AFJROTC by introducing this new competition team and showed that with enough dedication they can succeed.
"This is the first Tandem Team we've sent to competition since I've been teaching at KO,"  AFJROTC instructor Sgt. Chad Johnson said. "Levin and Yash won first place first and foremost because of the dedication to practice and repetition they exhibited. Scoring was high due to level of difficulty of their movements and the fact that they effectively used the entire drill pad."
Being the first tandem team for AFJROTC cadets at Oak, Levin and Yash hope that they can get others to form their own tandem teams, and even hope some of the girls will try it out.
"Levin and I have been practicing with each other for around three years, and we hope to keep this tradition alive for years to come," Varma said.