TMEA All-State Process Goes Virtual
Competition changes as singers adjust to new regulations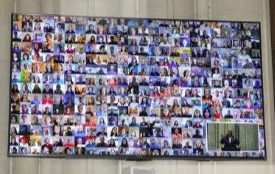 NEXT! Something students wait to hear when in line for this coveted audition. But the grind of waking up at the crack of dawn, anxiously waiting all day to see if you advance to the next round has been put to a halt.
Usually, with the few months to prepare for the first round of the TMEA (Texas Music Educators Association) All-State Process, there would be a plethora of camps and various ways to help but that all have changed due to the Coronavirus outbreak.
The Texas All-State Choir is one of the biggest and most prestigious honors that can be awarded to choir members in Texas. Approximately 16,000 high school students participate from across the state for a spot on the all-state choir.
This virtual process has some students questioning its fairness and could prove to be very difficult for those who rely on in-person auditions while others may prefer virtual submissions better.
"I believe the All-State process will actually be easier this year, as the music selected is more simplistic in nature and the audition process is less stressful since you don't have to be in front of a panel of judges and sing," choir director James Kritikos said. "[Students] will have multiple opportunities to provide the best possible audition. The only thing I don't know is how they are planning to do an All-State Choir since the conference is now virtual."
But there are still uncertainties because it has never been done virtually. Some students said that this new obstacle might bring them out of their comfort zone and that could be taken positively.
"When they announced TMEA would be virtual, I was very upset," senior Sydney Shell said. "The All-State Choir is so important to me and the idea of not being able to participate in it my senior year was devastating. Now, [even though it's virtual], I feel motivated and excited to take on the process in a different way."
Even though students and directors express mixed feelings towards this new competition style, it seems that there are a lot of positives to take from it. But remaining positive can be hard when changing plans to accommodate new guidelines.
"I was definitely disappointed I wouldn't get to participate in the full All-State experience senior year. I am very fortunate enough to have made it my sophomore and junior year," Shell said." But I feel especially upset for those seniors who did not get the opportunity to participate in the All-State Choir. They won't get to experience the rehearsals. However, with the virtual choir, I think that this gives us an opportunity to try something out of our comfort zone."
No matter  the contest rules, the director and the students think they can manage to overcome the changes ahead of them.
"This is not just choir; we are a family and families stick together and work together in the good
or the bad," Kritikos said.