Spooky Traditions
Origin of Halloween brings insight to modern time
Halloween. All Hallow's Eve. All Saint's Eve. Allhalloween. Day of the Dead. Whatever it's call, people dress up, have parties and go door-to-door in order to receive candy.
Many associate Halloween with candy and dressing up in costumes. Although those are modern expectations, that is not how Halloween came to be.
According to the BBC UK, Halloween started with the ancient Celtic festival of Samhain, which was the day before the Celtic New Year, November 1. 
According to history, Celtics believed the day before the new year, the 'veil' between the living and the dead was removed, therefore allowing the entrance of ghosts into the world. Celtics believed that the ghosts would try to damage their crops, so in order to prevent this, farmers would light up bonfires and wear animal skins to scare off the ghosts.
When Halloween finally came to America, it had already been modified by previous travels with Native Americans and Europeans. The original American Halloween celebrations included stories of the dead, telling fortunes and dancing.
"My friends and I would always have slumber parties, where we watched 'Nightmare on Elm Street', attempted to complete Halloween myths and make s'mores by the bonfire," debate teacher Angie Richard said.
One tradition that has become a highlight to most American children is "begging" for candy, or trick-or-treating.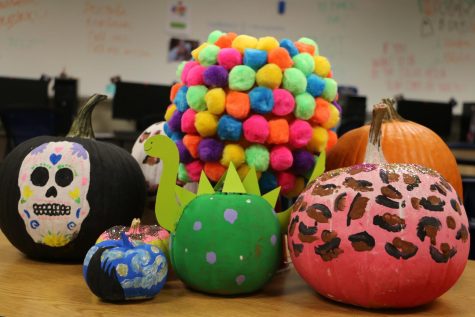 Now children and teenagers dress up as princesses, different careers and many other characters to trick-or-treating around their neighborhood, door-to-door collecting candy in order to trade with friends and siblings.
"My favorite part of Halloween is dressing up and being something different every year," senior Micalynn Germany said.  "My all-time favorite costume was when dressed up as a ladybug."
Many modern traditions with pumpkins have risen, such as going to the pumpkin patch with friends, pumpkin painting and pumpkin carving with friends.
"My friends and I always reserve a day to pick and carve pumpkins," senior Alyssa Gonzales said. "As it gets closer to dusk, we head home to spookify. We usually spend the rest of the night playing games and I just love spending spooky season with my boos!"
Pumpkin painting has reached an expert level, getting inspired by artists such as Vincent Van Goh and Leonardo Da Vinci. Starry Night, Mona Lisa and Girl with a Pearl Earring have all been used as inspiration for pumpkin painting. 
Others are inspired by the art around them.
"I love the movie Coco and its colorful aesthetic," senior Julia Mickelson. "Since Day of the Dead and Halloween go together, I thought doing a sugar skull would be such a cute and fitting idea for a pumpkin painting."
From ghost stories, dances and sacrifices to dressing up as fun characters and getting candy from door-to-door, the spirit of the season continues to spook and excite children of all ages.