It's Flipping Leah Smith
Dedicated gymnast overcomes surgery to set sights on Olympic dream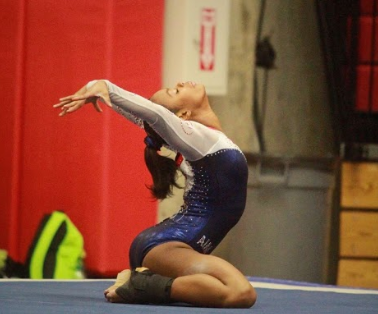 Leah Smith… more like the next Olympian Simone Biles. For the past seven years and despite a possible career ending spinal injury, Smith is a top contender to make the next Olympic Women's Gymnastics Team.
"I was in the hospital for three days. After my surgery it was hard to find the motivation to get back in the gym," Smith said. 
On Aug. 31, 2016 Smith had a spinal fusion surgery on L5 and S1 vertebrae for spondylosis, which means she fractured her back and her bone slipped.
After the surgery should could barely walk or do anything. This pain motivated her to get back into the gym and start doing what she loves again.
"I wasn't in the same shape that I was before, but my parents and coaches encouraged me to get back in," Smith said.
To make a strong comeback, Smith practices five hours a day Monday through Saturday. And, because of her stellar performances, her dedication in the gym and her love for the sport, the University of California – Berkley's contacted Smith about potentially competing for them at the collegiate level. 
"I love Cal so much. The coaches and campus are amazing, and they offer a great Pre-Med school which will help me begin my career in medicine," Smith said.
She is now verbally committed to further her academics and gymnastics career there.
Most recently, Smith competed in the Texas State Championship. She won in vault and floor and earned All Around Champion. After winning, she said excitement and happiness overwhelmed her, but she went back into the gym, continuing to work hard because the state win advanced her to regionals. 
"I felt amazing because I worked really hard and I was excited to rock regionals. I was even more excited because with this past meet where I won vault, floor, and All Around because I had struggled with beam and I hit my best routine of the season," Smith said.
Now she will advance to the 2019 Women's Junior Olympic National Championships in Indianapolis this May.
"This is a huge goal and accomplishment of mine," Smith said. "I am so excited to represent my region this year."
Smith hopes to eventually qualify for the Olympics and her coaches at Aim Athletics continue to push her to that goal.