Strutters Spring Into Contest Season
Dance team practices to perfect skills to bring home hardware
Even after football season ends, the Strutters strut their stuff. But the second half of the year, they go into competition mode to take on top dance teams from across the state. The girls are preparing with precise practices on school nights and going late into the night on Fridays as needed, striving to make each movement count and their technique flawless.
The dancers started off the season by competing in the Trendsetters dance competition on Feb. 2 at Klein Collins. They left with several awards. Junior Sydney Smith received senior division solo winner and sophomore Gabriela Solis was awarded first place solo for 9-10 grade.
"The feeling was shocking and rewarding because I worked so hard for months practicing my solo. It was amazing having all of my friends supporting me and cheering me on," Solis said.
The Trendsetter's competition was just the start of many. The MA Dance competition in Pearland was Feb. 16 and the team won several choreography awards and dance recognition. The season will end with the MDDTTexas State competition at Klein Cain on March 2.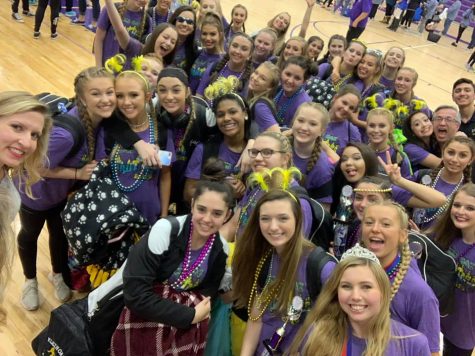 The team is performing three different routines at the competitions this year. A jazz routine with props, a military dance called "Freaks" and a contemporary dance that also uses benches.
"I love using the props during our routine because it keeps things interesting and fun," sophomore Savannah Buus said.
Leading up to these events the Strutters practice almost every day for two hours, making sure each formation is in line and every turn is on time. Those who are competing with a solo stay even longer to work on their own routine with Coach Shelby Polansky or Coach Amy LaRoe.
"During practice we run through our group routines in the commons or the gym. Sometimes we do team bonding exercises to have a little bit more fun," sophomore Makenna Prime said.
Soloists have been learning and perfecting their routines since summer. Hours of preparation goes into a solo. Besides working on technique and timing, they must also find the perfect song and costume.
"I prepare for my solo by practicing almost every day and going to private lessons outside of school," sophomore Isabel Vaughn said.
Competition season can be bitter sweet for some of the dancers. The seniors time as a Strutter is running out and they are giving it all they've got. They are soaking up each moment with their team.
"I'm super excited to compete with this team for my last competition season. We have worked so hard and I can't believe that this is my last year," senior major Noelle Smith said.