King for a Day
Mr. Football wins coveted Mr. Debonair crown
Contestants wearing sashes, an audience intrigued, judges impressed. It's a basic beauty pageant except for one thing: the roles are reversed. It's a contest for boys.
Student Council held the 11th annual Mr. Debonair contest on Feb. 15, with chosen representatives from clubs and organizations that packed the theater with all profits to the "Just for J" organization.
After the first round of basic contestant introductions, the second round consisted of questions answered on the spot to impress and entertain the judges from "Just for J Houston".
"We had no idea what question each of us were going to be asked," junior Mr. JROTC Levin Truitt said. "We just have to play it off and hope everything goes right."
Next, the guys had about two and a half minutes to amaze the audience with a talent of choice. Some consisted of magic tricks, dancing ballerinas, and live ASMR [Autonomous Sensory Meridian Response], a technique of creating soothing sounds.
"I did a parody of ASMR," senior Mr. German Club Aaron Rollins said. "I rubbed Styrofoam cups together, scratched nails on a chalkboard, and screeched a fork on a plate. The audience yelled as they cringed."
After all of the strutting, singing, and laughing, the crown went to Mr. Football, Tayton Coffelt, who lip-synced with partner senior Tyler Hudson to Taylor Swift's song, You Belong With Me.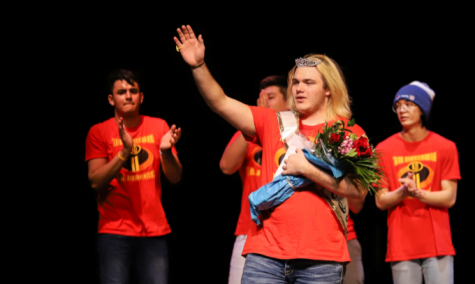 "Tyler wasn't supposed to be in my performance," Coffelt said. "I saw him five minutes before the show and I told him that I would definitely win if he performed with me, so we choreographed something quick and it worked."
Unfortunately, there were technical difficulties with Coffelt's music. Halfway through, the sound cut off, leaving him to continue to the performance. Although, he was not alone. The crowd took over and began to sing the lyrics.
"I wasn't nervous being on stage," Hudson said. "I got excited [when the music got cut] everyone began singing along."
For many of the participants, there is hope for next year, as the contestants aren't limited to seniors.
"If I get the opportunity, I think I can definitely win next year," Truitt said. "I'll be more prepared and know what to expect."
According to StuCo officer senior Anyssa Perez, Mr. Debonair raised approximately $6,500, as they do every year, selling about 650 tickets.