Stringing It Together
Orchestra members bond while competing in Albuquerque
Oak Chamber and Sinfonietta Orchestras launched Spring Break by attending the American String Teachers Association (ASTA) National Orchestra Festival and Conference March 8 – 9 in Albuquerque, NM.
Practices started the summer before the 2018-19 school year to make sure they were more than ready for this competition.
"We started in orchestra camp three or four days before school started," Assistant Orchestra Director Lacy Thwing said. " We came together and practiced for a couple hours each day, then we had every class day practicing ASTA music."
To get an early start to Albuquerque, the members left early Thursday morning, March 7, from Oak in charter busses and once there, they stayed three nights.
"It was a bonding experience for the group," sophomore Samantha Gaus-Schmidt said. "On the way back we got to binge watch four movies, Tangled, Secret Life of Pets, The Princess and the Frog and Mulan. Sometimes people would sing along, more so in the first movies but by the end people were not paying attention."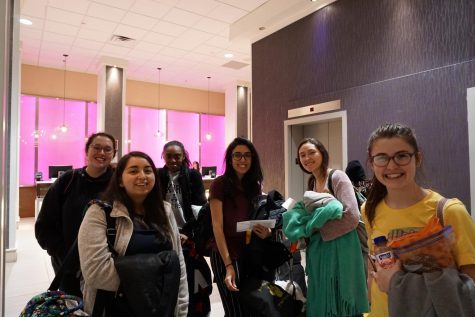 ASTA was held at the Albuquerque Convention Center in the Kiva Auditorium. Before and after they play their selection of music, students were able to visit exhibition rooms and/or watch other schools play, including the Klein High School Chamber Orchestra. Exhibit Rooms included a variety of fine art colleges and companies that were promoting what they do and what they sell, such as electric and other styles of instruments.
"One of the exhibit rooms had multiple instruments in it with a variety of music mainly for us to see different styles of bows and instruments," senior Emily Cabrera said. "When I was in there people were trying out the instruments and everyone was playing something different."
Not only did the orchestras compete, they also had a clinician talk to them after their performance about their strength in their selection of music and weaknesses in their concert.
"I remember Ms. Thwing saying that Mr. Ledford picks good programs. We don't play straight classical music," junior Thomas Liardon said. "We are playing a tango, and movements that are both made in the 21st century."
Even though the Oak Chamber Orchestra didn't receive the Grand Champion title, they went to the Hinkle Family Fun Center to celebrate the end of the competition with go karts, mini golf and laser tag.
"It was disappointing we didn't win," senior Curtis Jackson said. "But it was the time for coming together and forget about everything and realize we are a team and that it doesn't matter if we win or lose."