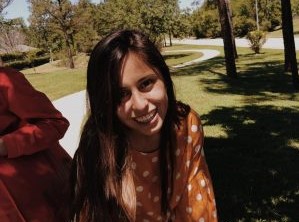 1. What do you enjoy most about the opportunity to be a reporter for the Panther Press?
2. What is your favorite quote, life motto, or the words you live by?
Live in such a way that if anyone should speak badly of you, no one would believe it.
3. What is the one food item that you couldn't live without?
Lentils
4. Three words that describe you:
Sweet, calm, joyful
5. Your three favorite news sources (any form of media)
CNN, The Rundown, The Wallstreet Journal
6. If you could have dinner with any three other people (dead or alive), who would they be?
Beyonce, Princess Diana, Yoko Ono
7. Favorite hobby:
Playing the piano
8. Favorite Holiday:
Thanksgiving
9. Favorite class at Klein Oak (besides Journalism):
Pre-cal
Your Twitter handle:
Paloma Benavides, Reporter
Mar 06, 2019
Dec 17, 2018
Nov 22, 2018

First Time Voters

(Story)

Nov 08, 2018

Atypical Olympians

(Story)

Oct 31, 2018

Fear Washes Over Night Riders

(Story)

Oct 11, 2018

Cheaters Gunna Cheat

(Story)

Oct 01, 2018

NHS Tweaks Requirements

(Story)