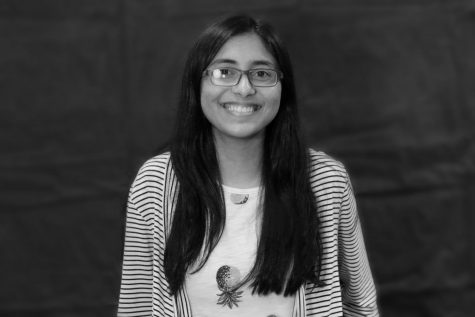 What do you like the most about newspaper/ publications?

I like meeting new people and getting out of my comfort zone.
What are your goals in life?

I want to create social awareness and live a long, productive life.
What are things you like to do in your free time?
I like videogames and reading, but I like drawing most of all. You could say I'm a sketchy person.
Describe yourself in three words.
Puny, knowledgeable, and sympathetic
Who's your favorite Disney princess and why?
Mulan is my favorite; she's a strong female icon who fought both the Huns and society's expectations.
Zainab Ansari, Reporter
Apr 13, 2018

All Around the World in One Day

(Story/Media)

Feb 22, 2018

Black Panther Movie Review

(Story)

Feb 21, 2018

February Netflix Update

(Story)

Feb 20, 2018

Basketball District Championship

(Story)

Feb 09, 2018

2018 UIL District Alignments

(Story)

Jan 12, 2018

Star Wars: The Last Jedi Review

(Story)

Dec 13, 2017

December Netflix Update

(Story)

Dec 13, 2017

Playoffs n' Mohawks

(Story)

Oct 30, 2017
Sep 22, 2017

Influence of Memes

(Story)

Sep 19, 2017

Benefits of Community Service

(Story)