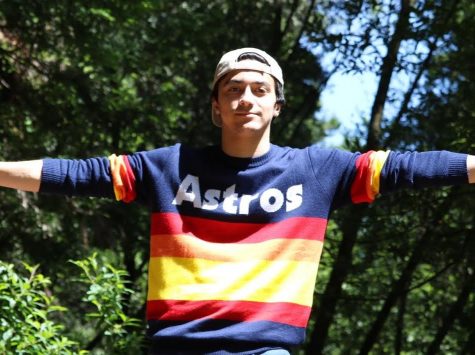 1. What do you enjoy most about the opportunity to be a reporter for the Panther Press?
Being able to further my skills as a writer and a photographer. Skills that hopefully will translate into a career in the journalism field.
2. What is your favorite quote, life motto, or the words you live by?
"Move through London with the eurostep."
3. What is the one food item that you couldn't live without?
Bizza
4. Three words that describe you:
Goofy, party on.
5. Your three favorite news sources (any form of media)
CNN, The New York Times, Tim and Moby.
6.  If you could have dinner with any three other people (dead or alive), who would they be?
Jimi Hendricks, John F Kennedy, Ronald Reagan
7.  Favorite hobby:
Taking pictures of all sorts
8. Favorite holiday:
Canadian Boxing Day
9. Favorite class at Klein Oak (besides Journalism):
Advanced Placement United States History with Mr.Bendick
10. Your Twitter handle:
@jacobmccready7
Jacob McCready, Reporter/Photographer
Apr 11, 2019

#ALLIN the Family

(Story)

Mar 25, 2019

Football Program Honors Biggest Fans

(Story)

Mar 19, 2019
Feb 22, 2019

Admin Struggles To End Vaping

(Media)

Mar 06, 2019

STAAR Debate Heats Up

(Media)

Feb 11, 2019

Global Backpacker

(Story)

Feb 12, 2019

National Signing Day

(Media)

Feb 06, 2019

Bright Star Review

(Media)

Feb 05, 2019

Lammers Golden Tickets

(Media)

Dec 20, 2018

StuCo Spreads Holiday Cheer

(Media)

Dec 14, 2018

The Battle of Midway

(Media)

Dec 04, 2018

Apple Grapples Ideas

(Media)

Dec 04, 2018

Just For J Turns Wishes Into Realities

(Media)

Nov 08, 2018

Showcasing Visual Arts

(Media)

Nov 08, 2018
Nov 09, 2018

Carnival Caps Homecoming Week

(Media)

Oct 26, 2018

Check Yes Or No

(Story/Media)

Oct 25, 2018
Oct 26, 2018

Dream Schools Expecting Early Decisions

(Media)

Oct 23, 2018

Rockets Bound for Finals

(Story)

Oct 19, 2018

Bogus Call Upsets Astro's Fans Everywhere

(Story)

Oct 15, 2018

Yell Leaders Stand For Spirit

(Story/Media)

Oct 11, 2018

Cheaters Gunna Cheat

(Media)

Oct 11, 2018

H2Oak Floods Campus

(Media)

Aug 07, 2018

Klein Oak wins 5-set Thriller over Cypress Falls in Volleyball Season Opener

(Media)