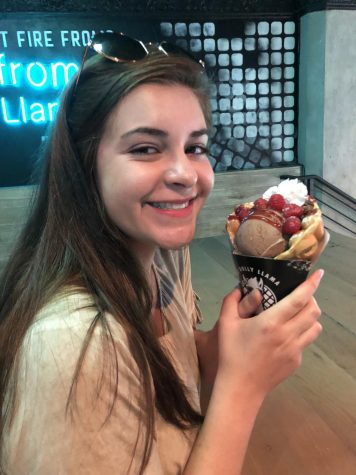 1. What do you enjoy most about the opportunity to be a reporter for the Panther Press?

I am excited to be deeply involved in the Klein Oak campus and to bring recognition to the achievements of our incredible students and staff.
2. What is your favorite quote, life motto, or the words you live by?
I love the scripture Philippians 4:13, "I can do all things through Christ which strengtheneth me." These words remind me to lean on the Lord for support and that with His help, I can accomplish anything.
3. What is the one food item that you couldn't live without?
I could never live without ice cream, especially Blue Bell.
4. Three words that describe you:
I am ambitious, passionate, and a perfectionist.
5. Your three favorite news sources (any form of media)
I enjoy reading articles from on the News app (especially CNN and the Washington Post) and watching clips from The Daily Show with Trevor Noah and The Late Show with Stephen Colbert.
6. If you could have dinner with any three other people (dead or alive), who would they be?
That's a hard one! I would choose Eleanor Roosevelt, Malala Yousafzai, and Maya Angelou.
7. Favorite hobby:
I really enjoy reading and watching movies.
8. Favorite holiday:
My favorite holiday is probably Christmas; I love the food, the family time, and the traditions.
9. Favorite class at Klein Oak (besides Journalism):
I love history! World History last year was amazing, and I'm excited to focus on the US this year.
Catherine Leone, Reporter
Sep 04, 2019

New American Rite-of-Passage

(Story)

Apr 30, 2019

'Mind'ing Your Own Business

(Story)

Apr 02, 2019
Mar 19, 2019

'Water' We Up To?

(Story)

Feb 22, 2019

Real-World Issues Addressed By Model UN Members

(Story)

Dec 11, 2018

Potter Fans Disenchanted

(Story)

Dec 03, 2018

Potter Fans Disenchanted

(Story)

Nov 09, 2018

Carnival Caps Homecoming Week

(Story)

Oct 11, 2018

H2Oak Floods Campus

(Story)

Sep 14, 2018

Band Marches Through Summer

(Story)